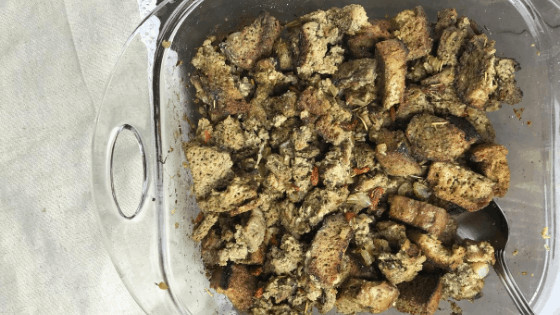 20 Nov

Gluten Free Thanksgiving Stuffing

I'm seriously loving creating all these holiday classics and putting in healthy substitutes, so you don't have to worry about eating unhealthy during the holidays. BUT, you can still enjoy the classics. I wanted to make this gluten free Thanksgiving stuffing for ya'll!

To be honest, I'm not a stuffing person. I've ate it before, but it's not my favorite "holiday" dish. I know people that LOVE stuffing and it's their favorite part. If that's you, you've come to the right place.

Not only are you going to get the classic stuffing flavor, but you're going to get it without wheat. This stuffing does have a little bit of a different texture, but it's not bad. I'll totally take a little bit of a change in texture to avoid wheat, which I get a headache from eating. Make sure that make our GF sandwich bread ahead of time, since this is what we use in the recipe!

If you're wondering why we avoid wheat, read this blog that I wrote about it. Wheat has been so modified, it's not the wheat that our ancestors ate unfortunately. I've never had a client that regretted taking wheat out of their diet.

Ok, ok. I know this isn't a "bash wheat" blog.

This recipe also calls for bone broth. Our favorites are Kettle + Fire and Bonafide Provisions if you don't have homemade bone broth ready. After Thanksgiving, you'll have plenty of bones to create some turkey broth! Yay!

Let's get to the recipe!

P.S. If you want to make this even easier, my favorite store-bought gluten free bread is from a company called Canyon Bakehouse. Not sure how it'll turn out, since I haven't made it with that bread, but it can't be bad, right? 😉

Are you ready to make this gluten free Thanksgiving stuffing? Tag us @nuvitruwellness on Instagram + Facebook when you make this so we can spread the holiday love!

Check out some of our other recipes such as Sweet Potato Hash, chicken noodle soup, sausage peppers, homemade poptarts, or bacon collard greens.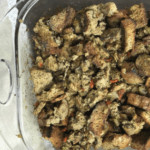 Print Recipe
Gluten Free Thanksgiving Stuffing
Ingredients
1

GF Bread Loaf

*Look at recipe notes for link to our GF sandwich bread!

7

Stalks

Celery

Chopped

1 1/2

Onions

Chopped

2

Tsp

Garlic Powder

1

Tbs

Thyme

2

Tbs

Sage

1

Tbs

Rosemary

2

Tbs

Butter

Grass-Fed

2/3

Cup

Bone Broth

Homemade, if possible. Want pre-made? Check recipe notes.

2

Eggs

Pasture Raised

Salt + Pepper

Goji Berries
Instructions
***Have your GF sandwich bread made already!*** Take the majority of the bread (minus a couple slices) and cut them into cubes. Put on a baking sheet and broil them for a couple minutes. You'll take them out once the top starts to really brown. (This creates the bread to be crispier)

Turn the oven down to 375 degrees F after you're doing broiling the bread.

Next, take your onions, celery, and spices and mix them together in a bowl.

Heat up the butter on a pan over medium heat. Add in the onions, celery, and spices into the pan. Cook these until they are soft.

Take off the heat and put the celery + onions back in the bowl you mixed it in. Put the bread into the bowl too!

Take 1/3 cup of the broth and mix it in with the onions + celery and bread. Mix well.

In a separate smaller bowl, scramble the eggs and the other 1/3 cup of bone broth.

Grease a 8x 8 baking dish with coconut oil spray.

Pour the bread/onion/celery mixture inside the baking dish. Top with salt + pepper.

Pour in the egg and broth. Lightly mix in the dish to make sure everything is even.

Top with a handful of goji berries.

Bake for 30-35 minutes. I will cover the dish with some foil to avoid burning the bread.

Let cool and ENJOY!