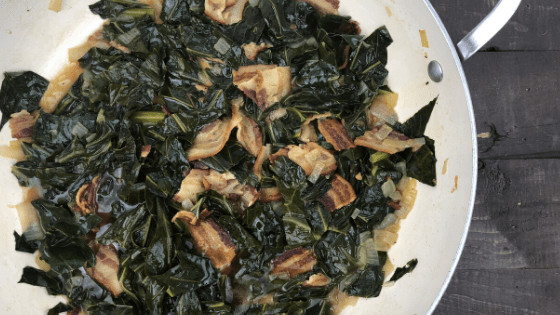 15 May

Bacon Collard Greens

I wanted to make these tonight with our Instant Pot BBQ shredded chicken because this is a classic favorite southern dish! I always see bacon collard greens at local BBQ joints, but I've never made it?! And now, I wondered what took me so long!

Anything with bacon in it is delicious. It can make the yuckiest vegetable turn into the most delicious one. My family loved these bacon collard greens just as much as me! They are my official first foodie testers. 😉

If you're curious on how I cook my Instant Pot BBQ chicken, it's super easy. I just throw some organic chicken breasts in the IP, cover them with BBQ sauce (the one we used tonight I got from Costco and it was SO good!), and a little bit of bone broth if the sauce is too thick. In order for the Instant Pot to work correctly, it needs enough fluids to build up pressure.

Cook the chicken for 20 minutes on high pressure. Tada! And these collard greens weren't bad either!

One thing that I've been obsessed with doing is cooking bacon in the oven!! I LOVE that it doesn't make much of a mess, the grease doesn't splatter every freakin' where. So, this is how I cooked the bacon in this recipe and then added the grease and chopped bacon….the rest of the recipe I'll put below.

Tag us on Instagram and Facebook @nuvitruwellness when you make these greens so we can see your tummy creation! Enjoy! 😉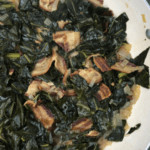 Print Recipe
Bacon Collard Greens
Ingredients
1

Bunch

Collard Greens

Destemmed, Chopped

1

Small

Onion

Chopped

1

Package

Bacon

Pasture-Raised

2

Cups

Bone Broth

1

Tsp

Apple Cider Vinegar

Salt + Pepper
Instructions
Turn the oven on 375 degrees F. Cover a baking sheet with parchment paper and lay the bacon on the baking sheet. Bake the bacon for about 20 minutes or until done/lightly crispy.

Once bacon is done, put a deep skillet on the stove on medium heat. Pour 3/4s of the bacon fat that is on the sheet pan into the skillet. Chop up the bacon.

When the bacon fat on the skillet is heated enough, put in the chopped onions and chopped bacon and sauteé until onions are translucent.

Put the chopped collards in the skillet and continuously mix it to make sure all the collards are covered in bacon fat. Continue cooking for 3-5 minutes.

Add in the bone broth, salt + pepper (I did this to taste), and the apple cider vinegar to the skillet and mix well. Put lid on and let simmer and cook down for 25 minutes. Occasionally, lift the lid and stir collards.

Enjoy!