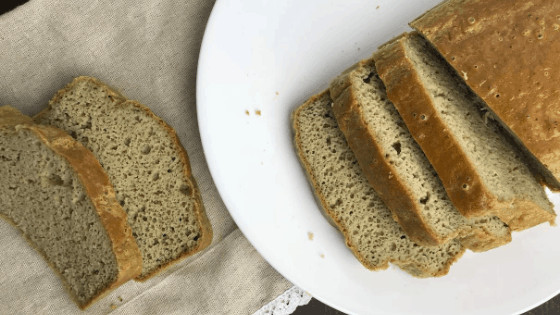 16 Nov

Gluten Free Sandwich Bread

Let's be honest, our society are bread addicts! There are so many yummy sandwiches and dishes that uses bread, it's hard to avoid. Possible, but hard in some recipes. It's possible though to create a bread that is just as good, like a gluten free sandwich bread.

I would say a BIG trick to getting this bread really similar to regular bread is toasting the slices before you use them. This creates it to be a little bit more crispy and harder. It's definitely a softer bread if it's not toasted.

I used a regular 9 x5 loaf pan, but there are options for different sizes of loaf pans. This 10 inch pan can help your bread be taller if you prefer. I have a baker friend that has one of these pans, but I haven't pulled the trigger to get one…..yet.

If you don't want to make your own bread, my favorite brand that you can buy in store is called Canyon Bakehouse. I LOVE them! They have the cleanest gluten free breads on the market. They have various choices from sandwich breads, bagels, muffins, and so much more.

Want to try some of our other bread recipes?

Tag us @nuvitruwellness on Instagram + Facebook with pics of your loafs! Learn more about cooking sprays. You can also try the Gluten-Free Sweet Potato Bread.

Gluten Free Sandwich Bread
Ingredients
6

Eggs

Pasture Raised

1/4

Cup

Almond Milk

Plain

2

Cups

Cashews

Raw

2

Tsp

Apple Cider Vinegar

2

Tsp

Baking Soda

2

Tbsp

Cassava Flour

1/4

Cup

Flaxseed Meal
Instructions
Preheat oven to 350 degrees F.

Put all the ingredients into a blender. Ideally, put the almond milk first (this can make it easier to blend).

First, pulse the ingredients in the blender a couple of times.

Put the blender on full speed until everything is well mixed.

Grease a loaf pan coconut oil (I use the coconut oil spray to make it quick).

Pour the blender contents into the loaf pan. Bake for 50 minutes or until the toothpick test passes. (Stick a toothpick in the center of the loaf and if it's done, the toothpick will come out clean.)

Let cool down before taking it out of the pan. Slice.

Store in fridge.