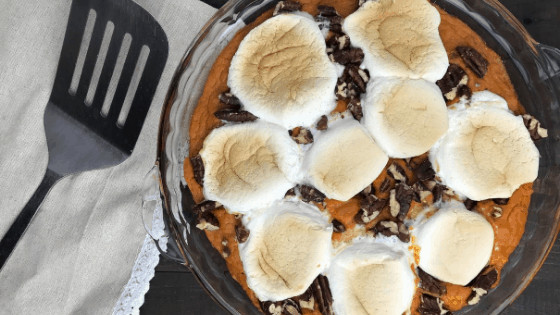 18 Nov

Sweet Potato Casserole {Healthy}

Another classic Thanksgiving favorite…sweet potato casserole. I know people who wait for sweet potato casserole all year! You know you can have Thanksgiving food any day of the year? 😉

I know that takes away from the fun of having holiday favorite foods. It just doesn't seem right in the summertime.

In this recipe, you'll use one of the easiest and healthiest ways to cook sweet potatoes!

This sweet potato casserole is free from refined sugar and is full of delicious ingredients. Quality matters!

Did you know pasture-raised eggs have more omega-3 and nutrients compared to factory farmed eggs? Even if it's the holidays, you don't have to sacrifice on your health.

If you are allergic to certain proteins in dairy, you can try ghee in this recipe, instead of butter.

I didn't want to add "homemade marshmallows" on my list of things to do this year. So, I just chose the best option for store-bought marshmallows from Whole Foods. Honestly, they aren't the best….they have ingredients that I'm not a huge fan of. Carrageenan and soy protein. But there isn't a better store bought option….anyone looking for a business idea? 😉

Tag us @nuvitruwellness on Instagram + Facebook when you make this yummy dish! We love to see your foodie creations.

Enjoy! XO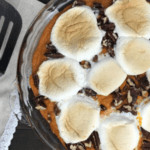 Print Recipe
Sweet Potato Casserole
Ingredients
4-5

Sweet Potato

Large

1/3

Cup

Coconut Milk

3

Tbs

Butter

Grass-Fed

1/3

Cup

Coconut Sugar

1

Egg

Pasture-Raised

Pecans

Marshmallow

Make your own or buy Dandies*
Instructions
Preheat oven to 375 degrees F.

In the Instant Pot, put one cup of water inside and the sweet potatoes. Use the wire rack that comes with the Instant Pot to raise the sweet potatoes out of the water.

Choose high pressure for 15 minutes. Make sure your Instant Pot is sealed on the lid.

Once the sweet potatoes are done in the pressure cooker, take the skins off and discard. Put the potato in a bowl.

Add the coconut milk, butter, coconut sugar, and egg into the bowl with the sweet potato. Using a hand held mixer, mix everything well.

Pour sweet potato mixture in baking dish and bake for 15 minutes.

After 15 minutes, take it out of the oven and take a handful of pecans and marshmallows and top the casserole. (Use as much or as little as you want).

Put it back into the oven and cook for the remaining 10-15 minutes.

You may have to use a fork to spread the marshmallow around the top. Enjoy!
Explore our other recipes which include: Grain Free Lasagna, Gluten Free Thanksgiving Stuffing, Quinoa Shrimp Wraps, Dark Chocolate Pomegranate Bark, and Instant Pot Meatballs.