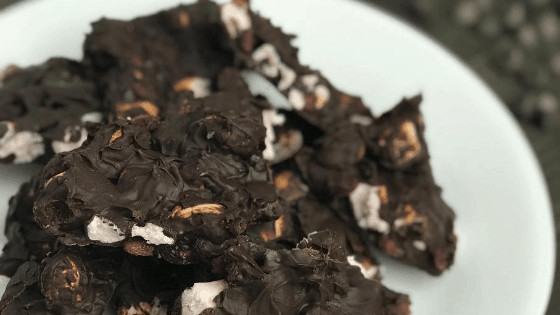 30 Nov

Dark Chocolate Pomegranate Bark

Are ya'll ready for this dark chocolate pomegranate bark? You guys, I died when I ate this. Not really, but I felt like my mouth took a trip to heaven. Seriously, so good! As I'm getting in the Christmas spirit, I was wandering around the grocery store looking at their holiday food. I came across the Dandie's peppermint marshmallows and while I'm not a crazy fan of them (they have carrageenan), I thought it would be SO fun to create something with them.

You can't find good quality marshmallows anywhere in the store. I keep telling people they need to start a marshmallow business. HA!

Dark chocolate and pomegranate seeds have always been one of my favorite combinations. They just go perfectly together. Why not add all three together?

And when you do…..you get heaven.

Plus, these are REALLY easy to put together. A child could do it. (After using the stove of course 😉 )

Enjoy Life and Equal Exchange are some of my favorite dark chocolate chips. I recommend using dark because the darker, the healthier.

Did you know chocolate could be part of a healthy diet? If not, you need to go listen to a podcast that I did with Dr. Robin and we talked chocolate, coffee, and all that fun stuff! Tag us on Instagram + Facebook @nuvitruwellness when you make this so we can spread the chocolate love!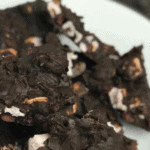 Print Recipe
Dark Chocolate Pomegranate Bark
Ingredients
1 1/2

Cup

Chocolate Chips

*Dark Chocolate, Enjoy Life or Equal Exchange are my favorites

1/2

Cup

Marshmallow

*We use Dandie's, which aren't perfect, but will do.

1/4

Cup

Pomegranate Seeds
Instructions
Fill a small pot halfway with water. Heat it up on the stovetop on high.

Fill a glass mason jar with the chocolate chips. Stick the mason jar in the small pot (this acts like a double broiler).

Mix the chocolate chips as they melt. I had to turn down the heat to medium once it started boiling.

Put the marshmallows and pomegranate seeds into a bowl.

Once the chocolate is fully melted, add the chocolate to the marshmallow/pomegranate bowl. Mix well.

On a piece of parchment paper, lay out the mixture and spread evenly.

Place in fridge for at least two hours to firm up.

Once it's done hardening, break into pieces of various sizes. Store in fridge. ENJOY!