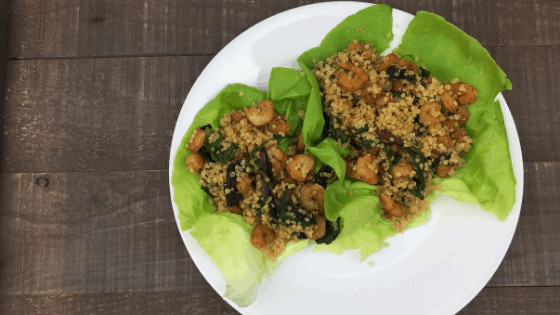 02 Feb

Quinoa Shrimp Wraps

We bought the cutest little wild caught shrimps from Costco and I know some of the most popular ways to use shrimp are shrimp scampi and shrimp tacos. I'll eventually do those recipes, but I wanted to make my own little twist on lettuce wraps. Which are these quinoa shrimp wraps!

Another obsession that I have lately is butter lettuce! I love how the butter lettuce comes with its roots intact. It lasts longer. I also love how soft and easy it is to make a little bowl/wrap. We usually use romaine, but it can either be too narrow or it can easily break when you fold it.

These wraps took barely any effort and can definitely be considered a quick weeknight meal!

Inside the shrimp and quinoa mix, I use a spring mix of leafy greens. I LOVE THIS because I literally used two handfuls, LARGE handfuls, and it always cooks down to barely nothing. This makes getting greens in my kiddos much easier.

When you make our quinoa shrimp wraps, tag us on Instagram + Facebook @nuvitruwellness so we can see your beautiful creation!

If you like this shrimp recipe, try our popcorn shrimp! A classic, but sans gluten. 😉

Quinoa Shrimp Wraps
Ingredients
Shrimp Mix
3

Cups

Shrimp

Thawed

1

Tsp

Chili Powder

1

Tsp

Garlic Powder

1/2

Tsp

Smoked Paprika

1/2

Tsp

Black Pepper

Salt

To taste

1/2

Lime

Squeeze the juice out

2

Handfuls

Mixed Leafy Greens

Use BIG handfuls

2

Tbsp

Avocado Oil

Butter Lettuce

Washed
Instructions
For the quinoa, I use my rice cooker for an easy way to cook quinoa at the right ratios. I use the specific cup that came with my rice cooker and filled the cup up twice. Put the quinoa in the rice cooker and filled the bone broth up to the 2nd line. (This will be different for every rice cooker or if you're doing it on the stove).

Heat up the avocado oil in a skillet on medium heat on the stove.

Put in the shrimp, spices, and lime juice into the skillet. Mix the shrimp and spices together.

Cook the shrimp for 10 minutes. The shrimp should be done by having a pink exterior and a white interior. Add in the big handfuls of leafy greens.

Cook the rest of the shrimp and green mix until all the greens are wilted.

Add the cooked quinoa to the shrimp mixture. Mix well.

Wash the butter lettuce off and prop to fill with the shrimp and quinoa mixture. Enjoy!
Explore our other recipes which include: cobb salad, Instant Pot Orange Chicken, Leftover Ham Soup, Honey Mustard Chicken, Broccoli Ham Quiche, and Stuffed Acorn Squash.