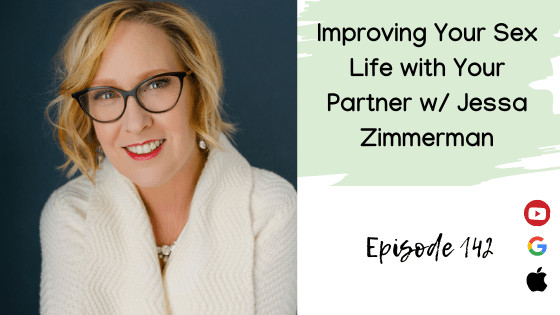 04 Dec

Improving Your Sex Life w/ Jessa Zimmerman

On this week's podcast, we're talking SEX! Are you looking to improve this part of your life with your partner? This is what we're diving into….
Benefits of an active sexual relationship
Top reasons your sex life may be going downhill
Men vs Women
Lifestyle tips
What about fun toys?!
Porn
We have rebranded to Nuvitru Wellness.
While this is usually a topic that is avoided in public conversation, it doesn't have to be. We're all about being open + no topic is TMI because we're alllll human and struggle with different things. If this topic is something you and your partner struggle with, don't worry! You'll get a lot out of this episode!
About Jessa, Certified Sex Therapist
Jessa Zimmerman is a certified sex therapist and couples' counselor. She specializes in helping couples who have a good relationship but who are avoiding sex because it's become stressful, negative, disappointing, or pressured. She educates, coaches, and supports people as they go through her 9-phase experiential process that allows them real world practice in changing their relationship and their life. She is the author of Sex Without Stress, the host of the Better Sex Podcast, and is a regularly featured expert in the media, including Refinery29, Business Insider, Mind Body Green, and Marriage.com.
Connect with Jessa over on her website + her podcast!
Connect with Lahana over on Facebook, Instagram, and her website! If you're ready to upgrade your health on different level, head over to our Services page to schedule your FREE appointment!

Listen to other podcast episodes on topics such as: vaccines, progesterone, melatonin, diastasis, meal planning, and estrogen dominance.