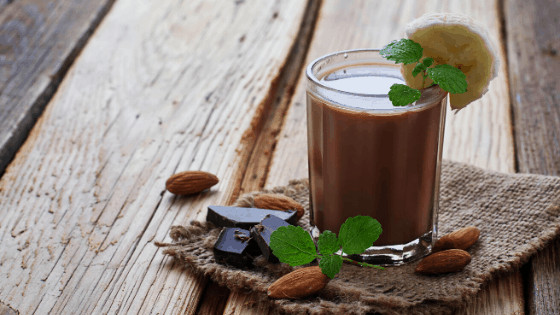 14 Aug

Mint Chocolate Collagen Shake

Something about mint + chocolate together sounds SO good! What's even better is a smoothie that brings these flavors together in a nutritious way! Mint has many anti- inflammatory , antiviral, and antibacterial properties. It is also used medicinally to cure headaches and facilitate smoother digestion and heal an upset stomach. Quality is key when it comes to ingredients to truly benefit oneself. Cocoa contains flavanols to improve type II diabetes, and polyphenols to improve blood flow and brain function (would make a great study snack). One of our favorite collagens that we use in our house is by Vital Proteins! Collagen is beneficial in improving skin health, hair health, nail health, and may also increase muscle mass, preventing bone healthy and relieving joint pain. We love that we're able to add this collagen to SO many recipes and smoothies without it changing the flavor, but adding amino acids and protein in. Win-win!

Smoothies are such a great way of blending nutrient rich greens and herbs into your diet. Like collagen, you can literally add spinach, kale, or spirulina to any creation without tasting it!If you love smoothies, try our

When you make this mint chocolate deliciousness, tag us @nuvitruwellness on Instagram or Facebook so we can see your creation and share it!

Explore some of our yummy recipes which include chicken pesto, gluten free crepes, orange chicken, and hashbrown casserole.
Mint Chocolate Collagen Shake
Ingredients
4

Tsp

Cocoa Powder

2

Scoops

Collagen

2

Tsp

Coconut Sugar

1

Dash

Vanilla Extract

1-2

Drops

Mint Extract

(Or use a couple of mint leaves!)

1

Cup

Almond Milk

Unsweetened