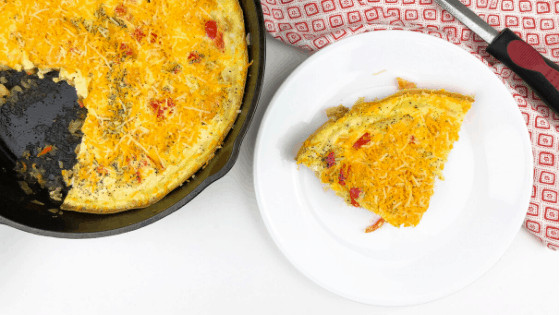 19 Sep

Hashbrown Casserole

This simple hashbrown casserole is a perfect relationship with good carbs, proteins, and fats to get your morning started right (or brinner!). Using a cast iron skillet for this recipe is highly recommended because you use less dishes and you can put the skillet right from the stove to the oven.

To make this recipe even easier, I used Cascadian Farms Organic Root Vegetable Hashbrowns that I found at Sprouts! This is a mixture of sweet potatoes, potatoes, and carrots. I love that it is shredded up for you and ready to use, BUT since it is frozen, it's a little harder to "crisp" and brown. I'm not picky, so it really didn't bother me.

If you like the crisp in hashbrowns and/or you can't find the root veggie hashbrowns in the freezer section at your local store, you'll have to shred regular potatoes using a food processor.

After you shred the potato, put the potato in some paper towels, pour some salt on top of them, and SQUEEEEZE. When you squeeze and use salt, it helps get the excess moisture out of the potatoes, which allows you to actually brown them. Then, continue with the recipe as normal. 🙂

On a side note, I finally found the SoDelicious "cheese" at Whole Foods and I was so eager to try it, since I love SoDelicious products. It is really good + I can barely taste the difference. You are more than welcome to try the cheese of your liking though!

Now, get to your kitchen and make this hashbrown casserole…you wont be disappointed! Tag us on Instagram + Facebook so we can see your yummy creation!

Hashbrown Casserole
Ingredients
1

Tbsp

Avocado Oil

12

Oz

Root Vegetable Hashbrowns

Or shred up regular potatoes*

9

Eggs

Pasture-Raised

3

Mini Sweet Peppers

Chopped

SoDelicious "Cheese"

Cheese Of Choice**

Salt + Pepper

To Taste
Instructions
Preheat oven to 375 degrees F.

On the stove over medium heat, heat up a cast iron with some avocado oil.

Put the root vegetable hash browns (or your regular potato hashbrowns) into the skillet and cook them until they are heated throughout.

Make sure the hash browns cover the bottom of the cast iron. In a separate bowl, scramble up the eggs. Pour the scrambled eggs on top of the cooked hashbrowns.

Sprinkle the chopped sweet peppers throughout the casserole. Sprinkle salt + pepper on top of the casserole (do as much as you want).

Bake for 15-20 minutes or until eggs are cooked through.

At the last 5 minutes in the oven, I will put my cheese of choice sprinkled on top!

Take out of oven + enjoy!
Notes
*Make sure you read the blog above the recipe for instructions on what to do if you have to shred potatoes up yourself.
**For this recipe, I wanted to try out SoDelicious "cheese" made from coconut milk. I highly recommend it! But, feel free to use raw grass-fed cheese, feta cheese, etc. Sky is the limit! 😉
Check out some of other recipes which include: Lactation Cookies, Shishito Peppers + Sriracha Aoili, Potato Hash, and Blackberry Sausage Hash.