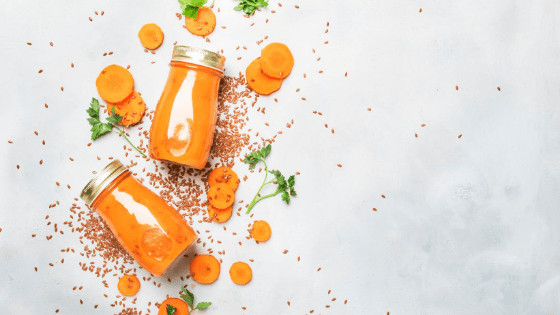 24 Jul

Carrot Cake Smoothie

If you are like me and LOVE carrot cake, you will love this carrot cake smoothie for a treat or post-workout recovery drink. If you're really ready to upgrade your working out experience and get closer to your health goals, make sure to check out our Services page to learn more about what we do!

We have made some delicious smoothies lately that really turn a dessert into a healthy post workout, so if you like this recipe, go try some of our other smoothie recipes…
Ingredients
1 Cup Vanilla Almond Milk
2 Organic Carrots
1 Banana
Vanilla Whey Protein (Follow directions on package of how much a serving is)
1/2 Cup Filtered Water
A Couple Shakes of Cinnamon
1/4 Cup Walnuts
Directions
Cut the ends of the carrots off.
Blend the carrots and almond milk together until it's all liquid.
Add in the rest of the ingredients into blender and blend until smooth.
Enjoy!
P.S. Since you are using whole carrots, the end result you will still have some of the carrot fiber and pieces in it. If you want to use carrot juice instead, feel free to! I will try it next time & update on the ratio!
P.P.S. When you make this carrot cake smoothie recipe, head over to social media, so you can share with us @nuvituwellness on Instagram + Facebook!
In Health,
Lahana Vigliano