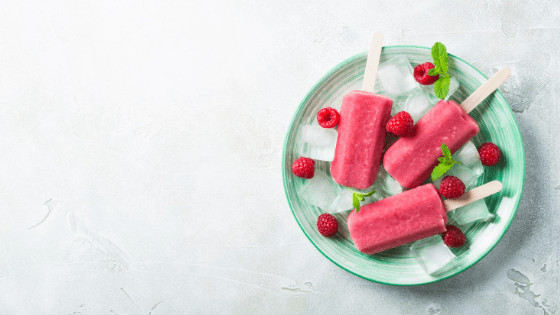 28 Apr

Kombucha Popsicles

Kombucha popsicles = summer right around the corner!

They are perfect to give to your little one during a hot day. Unfortunately, most popsicles that you'll find in the store are filled with tons of sugar, artificial colors and flavors and high fructose corn syrup (which leads to obesity + can increase your risk for heart disease in just two short weeks). 

Kombucha is a fermented tea drink that has probiotics to help support healthy gut bacteria (which naturally helps support your immune system), B vitamins, amino acids, and can support overall body function.

Kombucha is pretty tarty + and a little bit of juice is usually added to kombucha to help with flavor and intensity of it. We used one of our favorite kombucha flavors in this popsicle – Gingerberry!

Ready to make your own?
All you have to do get some popsicle molds -> you can use these silicon ones where you can create a push through popsicle or get these stainless steel ones that create the regular popsicle on a stick!
Fill it with your choice of frozen fruit. We used frozen pomegranate seeds in this one. 
Fill up the popsicle mold about 3/4's of the way with kombucha.
Freeze!
When you are ready to enjoy one, you may have to run it under some warm water to loosen it up (if you are using the stainless steel containers). Now, ENJOY!
And get creative with your kiddos with the different combinations! We also just use coconut water and frozen fruit too for other popsicle ideas. We'd love to see your ideas on your kombucha popsicles recipe, head over to Instagram and Facebook + share it with us @nuvitruwellness.
Happy summer time!
Check out some of other great recipes which include: Banana Blueberry Muffins, Gluten Free Chocolate Doughnuts, Dairy Free + Gluten Free Cheesecake Bites, Cinnamon Apple Brussels Sprouts, and Pumpkin Spice lattes.