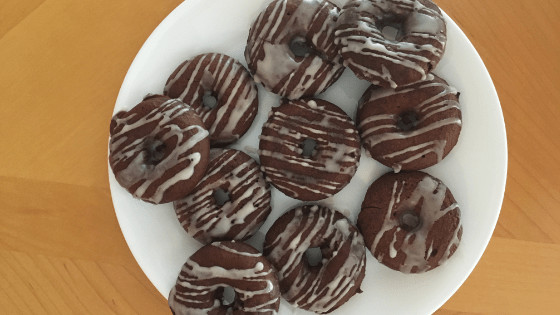 09 Mar

Gluten Free Chocolate Doughnuts

After school, the kids and I were in a major mood for gluten free chocolate doughnuts, so I decided I needed a create a delicious chocolate doughnut recipe for the blog. I haven't baked anything in a while and the kids were eager to help in the kitchen – what a perfect opportunity right?

This recipe made a little over a dozen of mini doughnuts (that's the maker I have). And let me tell you, they didn't last that long. They lasted about 2 hours before the only thing left was some icing. I will definitely be doubling the recipe next batch! 😉 The downfall of baking in this house! I just want to enjoy my baked goods for a while.

If you made our gluten free chocolate doughnuts, head over to Instagram + Facebook and tag us @nuvitruwellness so we can see yo goodness! If you like these doughnuts, try our edible cookie dough for another treat!

Ingredients
1 Cup Almond Flour
1 Tbs Tapioca Flour
6 Tbsp of Raw Cacao
3 Tbs Coconut Sugar
2 Eggs (Pasture-Raised Preferred)
2 Tbs Grass-Fed Butter
1 Tsp Baking Powder
1/4 Cup Full-Fat Coconut Milk
Pinch of Salt
Icing
1 Cup Organic Powdered Sugar
2 Tbs Coconut Milk
1 Tsp of Vanilla Extract
Directions
In a bowl, mix almond flour, tapioca flour, raw cacao, and coconut sugar together.
Heat up your doughnut maker or your oven on 350 degrees F (depending on the way you are going to cook them).
Next, mix the eggs, butter, baking powder, salt, and coconut milk into the flour mix.
Mix until it's all well combined.
Pour your mixture into your doughnut maker or a doughnut pan for the oven and bake until the toothpick test comes out clean. (This is where you check your doughnuts with a toothpick and you insert it in the middle of the doughnut and if it comes out clean, the inside of the baked good is done. If it comes out wet, it still needs to bake.) I have a mini doughnut maker, so my doughnuts only take about five minutes to cook in the doughnut maker.
While you doughnuts bake, mix up the icing ingredients until everything is well combined.
Let the doughnuts cool completely before putting icing on.