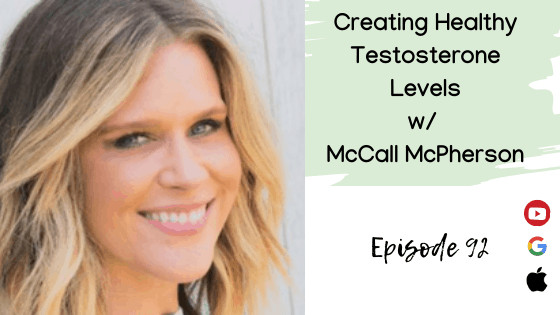 28 Nov

Creating Healthy Testosterone Level; mccall McPherson
Testosterone
I'm so excited to have McCall McPherson on the podcast this week speaking about testosterone! Before we begin, I wanted to announce our rebrand to Nuvitru Wellness! Testosterone is an important hormone in both men and women. McCall and I go over everything you'd want to know about testosterone (and let me mention, McCall is an AMAZING practitioner!). She answers questions like
What testosterone does for our body
Symptoms of high or low testosterone
How our lifestyle effects this hormone level
Ideal functional medicine ranges in testosterone (NOT the normal reference ranges most doctors use)
How we can raise it
How we can lower it
Make sure to get your ATX healthy restaurant resource here!!!!!!!
About McCall McPherson
McCall McPherson is the founder and co-owner of Modern Thyroid Clinic, a thyroid-centered functional medicine practice in Austin, Texas, a general functional medicine practice, Modern Medicine, a physician assistant, recent TEDx speaker and a thyroid patient and guru. Her passion for perfecting hormones stemmed from years of her suffering due to the mismanagement of her own hypothyroidism.
Now she lives, breathes, and thrives in understanding the nuances of proper hormone care. she understands the dramatic difference it can make in the lives of her patients. Her practice is rooted in balance and realistic expectations. Her passion is in helping burnt out fatigued mothers get their lives back. She also spends her time teaching and advocating for the other millions who aren't her patients suffering from fatigue and hormonal disruption.
Connect with McCall over on Facebook, Instagram, and Twitter!
Connect with Lahana at Nuvitru Wellness over on Facebook, Instagram, and her blog!

Explore more of our podcast episodes. We have episodes on hunting to feed your family, body pre conception, healthy traveling, treating depression, juice cleanses, birth control and skincare.