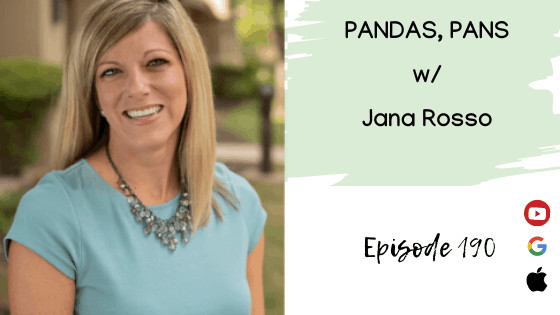 24 Dec

PANDAS + PANS with Jana Roso
PANDAS/PANS
Do you or someone you know struggle with PANDAS or PANS? Jana Roso from Neuronutrition Associates is one of the best in the field of bringing this diagnosis to light! We're talking all about what it is, diet and lifestyle connections, treatment, labs, and so much more! She is bringing strong evidence with PANDAS/PANS. Please share with another mom who may need to hear.
This is our LAST podcast episode under this brand – we are transitioning to Functional Nutrition Radio, which you don't have to do much. You'll just notice different branding and images and mostly solo episodes with me! 🙂
**We've rebranded to Nuvitru Wellness**
Connect with Jana Roso on her website, Facebook and Instagram.
Connect with Lahana on her website, Facebook,and Instagram.
About Jana Roso, MSN, APRN, CPNP
Jana is a pediatric nurse practitioner who practiced in primary care for many years before transitioning to functional medicine. She has found her passion in treating the root cause of illness in chronically ill children. She has completed her MAPS fellowship and is also trained by the Institute of Functional Medicine. She and her partner opened their practice Neuronutrition Associates and focus on treating children with autism and PANDAS/PANS. They wrote and released their book The Parent's Roadmap to Autism in January.

Listen to more of our podcasts. We have episodes on lupus, IBS, feminine hygiene, motherhood, depression, and cancer support.