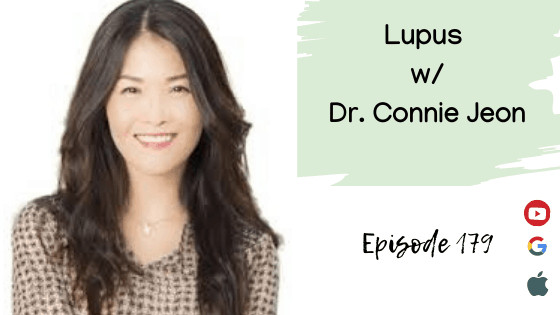 08 Oct

Lupus Rebel w/ Dr. Connie Jeon {Episode 179}

**We've rebranded to Nuvitru Wellness** We're sitting down with Dr. Connie Jeon + chatting about lupus today! This is something people are struggling with and not realizing there is so much more than conventional medicine ways! I love hearing Dr. Connie's journey about being diagnosed with lupus + autoimmune conditions.

In Dr. Connie + I's conversation, we are hitting on these points…
Root causes of autoimmunity
How gut health is intertwined with it + what you can be doing
Natural lifestyle + nutrition approach to lupus
Did she feel conventional treatments were a must? {This is a big question because sometimes bringing conventional and natural methods can do wonders together!}
What yin and yang energy means
Alkaline Foods
SO many great questions answered in this episode – tune in + share with a friend who might need to hear it.
Need a dietitian or nutritionist who practices a functional holistic approach? Check out our Work With Us page to see how Nuvitru Wellness can help you!
Find Lahana @nuvitruwellness on Instagram + Facebook. We love connecting with our community! Make sure to give us a follow + engage with us, so we can learn more about you!
P.S. Try our latest recipe on the blog – Instant Pot Korean Beef Tacos!
About Dr. Connie Jeon on Lupus
Dr. Connie Jeon is a board certified Functional Medicine Practitioner, Doctor of Physical Therapy, and Registered Dietitian. She found the Alkaline Method utilizing her didactic background as well as her experience as a Lupus patient for over 19 years. She's created holistic solutions for patients living with autoimmune conditions.
Find Dr. Connie on her website, Facebook, and Instagram!