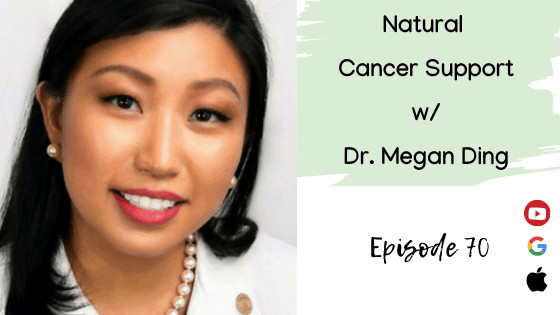 27 Jun

Episode 70 : Natural Cancer Support w/ Dr. Ding

Natural cancer support is something that people yearn for when they're going through this health condition. Dr. Ding doesn't disappointment in today's conversation! Learn all about natural cancer support today. Also, we've rebranded to Nuvitru Wellness!
Dr. Megan Ding is a board-certified and licensed naturopathic doctor practicing in Charlotte, North Carolina. Her aim is to find the root cause of your symptoms and addressing your health concerns with natural medicine. Dr. Ding attended the old accredited naturopathic medical school, National University of Natural Medicine, in Portland, Oregon and has additional training at two Cancer Treatment Centers of America locations.
Dr. Ding address various health concerns from hormonal imbalances, cardiovascular, skin disorders, digestive problems, and many more. Her passion is helping those who are facing cancer. She sees patient before, during, and after treatment to help heal their body and improve their quality of life.
Connect with Dr. Ding on her website + Instagram + Facebook!
Resources mentioned:
Radical Remission + Anti-Cancer Book
Connect with Nuvitru Wellness on the blog + Facebook + Instagram + YouTube! We absolutely LOVE connecting with our community on social media, so when you listen to episode, screenshot it + tag us @nuvitruwellness that you're listening. XO
If you're ready to take back your health and work with a nutritionist, head over to our Services page to see what we offer!