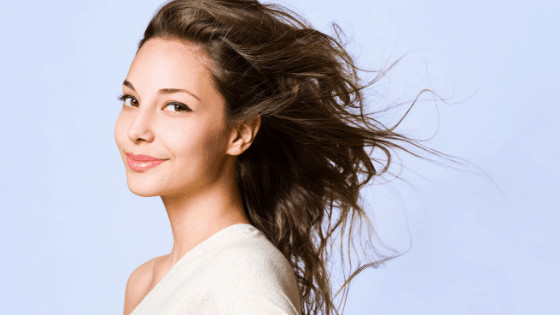 19 Jul

Target Clean Beauty Finds on a Budget
The Problem
Okay y'all, clean beauty practices are important…more important than most of us might think. Our skin is our largest organ, and is porous, meaning it absorbs every single thing we put on it. When we apply products to our skin that are laden with synthetic and toxic chemicals, these chemicals can successfully pass through the upper layers of the skin, and are then available for absorption by the bloodstream and/or lymphatic system. This is the primary reason clean beauty and skincare choices are so important. We do NOT want these 9 most common toxic chemicals listed below in our bloodstream or lymphatic system, because as you can see, they have potential to wreak havoc on our hormones and cause all sorts of other health problems.
Parabens

Parabens are proven endocrine disruptors; mimicking estrogen in the body and leading to many hormonal imbalances. This toxic chemical even has even been linked to breast cancer…yikes! This study found concentrations of parabens in human breast tumors, and this study found that 99% of all cancerous breast tumors contained parabens.

Artificial Fragrance/Parfum

This category of toxins can be pretty sneaky, as it is usually simply labeled as "fragrance" in products. Ladies, hate to burst your bubble…but these toxic "fragrances" are in most all perfumes. According to the Environmental Working Group (EWG) Skin Deep Database, fragrance concoctions have been linked to potential negative effects on reproductive organs, allergies, dermatitis, and respiratory distress.

Phthalates

Phthalates, similar to parabens, are known endocrine disruptors and have been linked to increased risk of breast cancer (check out this study), early breast development in girls, and reproductive defects in males and females. Unfortunately, phthalate usage is not always disclosed on every product, and is commonly hidden in "fragrance" mixtures.

Sodium Laurel (SLS) & Laureth Sulfate (SLES)

SLS and SLES have the potential to interact and combine with other chemicals in products to form nitrosamines, a carcinogen. Nitrosamines are known to irritate the skin, lungs, and eyes; and this study found that nitrosamines are linked to more severe issues such as kidney and respiratory damage.

Toluene

Toluene has been linked to causation of birth defects, and can also be toxic to the immune system. This study found that exposure to toluene vapors may cause developmental damage in the fetus, therefore pregnant women should especially avoid exposure to this toxic chemical.

Polyethelene Glycol (PEG)

PEG contains ethylene oxide (a classified carcinogen) and 1-4 dioxane. These chemicals have been shown to cause respiratory problems, and have been strongly associated with dermatitis and hives.

Triclosan

Triclosan is an antibacterial agent, meaning it kills all bacteria, including the good stuff. Most of us know that we want a healthy balance of bacteria in our gut. Well, we also want a healthy balance of bacteria in our skin, our outer microbiome….aka, we don't want to be lathering ourselves in antimicrobial agents like triclosan. Triclosan is also a known endocrine disruptor. especially harmful to thyroid and reproductive hormones. Last thing….this study linked triclosan to gut inflammation and promotion of tumor growth.

Oxybenzone

Oxybenzone is yet again, a known endocrine disruptor, and has been shown to suppress thyroid function. Oxybenzone is primarily used in most all chemical sunscreens…but is also found in some moisturizers, lip balms, and lotions.

Formaldehyde

Formaldehyde is a known carcinogen, and is linked to asthma, neurotoxicity, and developmental toxicity. This chemical is mainly used as a preserving agent in cosmetics.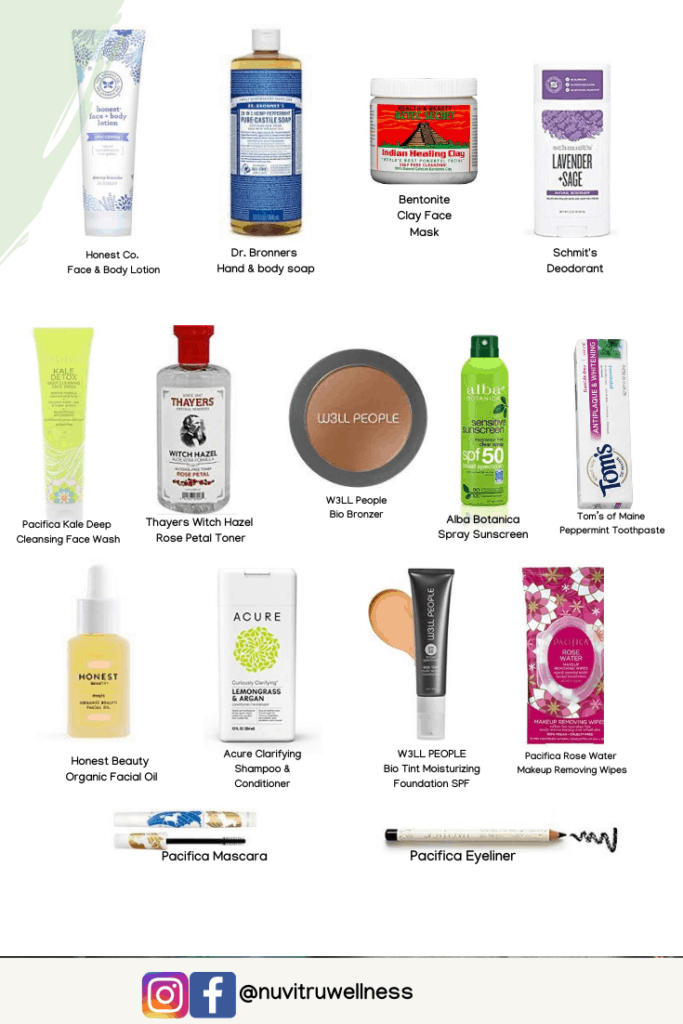 The Clean Beauty Solution
These are just some of the most prevalent, and most toxic, chemicals used in the beauty and skincare industry…..but there are MANY more to be on the lookout for. Usage of toxic beauty products may be an underlying cause of your hormonal imbalances or thyroid dysfunction. If you would like to dig deeper into this topic, I highly recommend visiting the Environmental Working Group (EWG) Skin Deep Database. Alright, enough science, let's get to my top 15 clean beauty finds at Target! Clean beauty can definitely get expensive, and Target has some great options that won't break the bank. I know this topic can be overwhelming as you have to take skincare, hair products, lotions, deoderant, sunscreen, toothpaste, makeup, soap, etc. all into consideration – so hopefully you can use this list as a simple guide to clean, healthy beauty!
Dr. Bronner's Hemp Peppermint Pure Castile Soap

This is my all-time favorite brand of soap, and I was so excited when Target started carrying it! You can use it as body wash or hand soap, and it is SO clean, affordable, and seriously will last you forever. They carry baby soap as well for your kiddos! This Dr. Bronner's Lavender Soap Bar is another one of my soap staples for body or hands.

The Honest Company Lavender Face and Body Lotion

This super clean and nourishing lotion smells and feels amazing, and you can rest easy knowing your skin won't be absorbing any toxic chemicals!

Tom's of Maine Natural Peppermint Toothpaste

When it comes to toothpaste, you want to look for natural ingredients along with fluoride-free. This toothpaste meets the criteria, and has a super refreshing natural peppermint feel!

Pacifica Kale Detox Deep Cleansing Face Wash

Clean face wash products can be hard to find, but this deep cleansing face wash is super clean and very refreshing. I would not recommend using face wash more than once a day, and always follow with a nourishing and hydrating facial oil, so as not to strip the skin of its natural oils.

Thayers With Hazel Rose Petal Toner

Witch hazel is seriously the best natural toner there is – it is a natural astringent (reduces the size of your pores) and is known for easing inflammation and soothing the skin.

Schmidt's Lavender + Sage Natural Deodorant

Natural deodorant is SO important you guys!! Most deodorants on the market contain aluminum, which has been linked to breast cancer. Natural deodorants free of aluminum and other harmful ingredients won't block your pores like toxic antiperspirant deodorants do, and allow the good bacteria on your skin to do what it's supposed to, helping to naturally reduce odor. Along with this, our armpits are one of the primary detoxification sites of our lymphatic system, and we do not want to block our body's natural detoxification process at this primary site.

Alba Botanica Spray Sunscreen

We wear sunscreen to prevent skin cancer (and burns)… right? But what if the sunscreen you're lathering on your body is actually doing more harm than good. Most sunscreens are very toxic to the body, and remember, we absorb every single thing we put on our skin. This sunscreen is clean and free of major toxins, and is also spray on so won't leave that thick white coat!

Pacifica Rose Water Makeup Removing Wipes

These makeup removing wipes are so refreshing, soothing, and perfect for your night time makeup removing routine. Never sleep with your makeup on ladies!

Honest Beauty Organic Facial Oil

Facial oil – seems counterintuitive, right? We want our faces to be less oily….not more oily? In chemistry, there is a saying "like absorbs like," and in this case, the good oils you apply to your face will absorb the bad oils. I am a HUGE fan of solely using facial oils as moisturizer, as they can penetrate deep into the skin, trapping water and other moisturizing goodness in, while keeping toxins and other bad stuff out. Oils also help to fortify and strengthen our own natural skin barrier. This one is specifically very clean, nourishing, and hydrating.

Bentonite Clay Face Mask

Okay, I LOVE bentonite clay as a face mask. The only ingredient in this product is bentonite clay, which is a a natural ancient clay that forms a paste when mixed with water. Bentonite clay is known for detoxifying and cleansing the skin. I personally love using bentonite clay masks to prevent or fight breakouts (it works wonders), and to reduce skin redness or irritation.

Acure Curiously Clarifying Lemongrass & Argan Shampoo and Conditioner

Most shampoos and conditioners are laden with parabens and other toxic chemicals that are absorbed through your scalp and skin. This product is very clean (as well as the rest of the Acure products) and my go-to shampoo/conditioner!

W3LL PEOPLE Bio Tint Moisturizing Foundation

This tinted moisturizing foundation is awesome and non-toxic amongst the millions of other very toxic makeup products on the market. All of the W3LL PEOPLE products are a great go-to at target when it comes to makeup.

W3LL People Bio Bronzer Baked Powder Natural Tan

Great natural bronzer – looks better than the conventional bronzer products in my opinion!

Pacifica Dream Big Mascara

Pacifica is another awesome natural makeup brand, and you can trust that all of their products are clean.

Pacifica Natural Jet Eye Pencil

Awesome natural eyeliner option! Most toxic chemicals in eyeliner or mascara products cause some redness to the eyes, especially when washing your face. You can be sure to not experience any of that with this product!