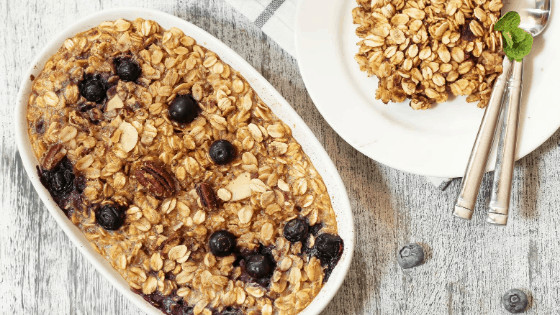 18 Oct

Pumpkin Oatmeal Bake {Gluten Free}

With all these pumpkin recipes, I've been going through cans of it in my house! But I just can't help myself! I haven't made an oatmeal bake in about a month, so I felt that I was due for one, specifically a pumpkin oatmeal bake. 'Tis the season, eh?

This delicious pumpkin oatmeal bake was totally picky-kid approved, which is huge in our house and I got the win of having them to get a vegetable without the fuss!

I do soak the oats overnight in purified water and a dash of raw apple cider vinegar. I do recommend doing that with most grains and legumes, it also makes cooking time a bit quicker. If you want to skip this whole process, buy sprouted oats by One Degree Organics. I absolutely LOVE THEM! They've done this process for you!

When you make this pumpkin oatmeal bake, tag us over on Instagram + Facebook so we can see it @nuvitruwellness 🙂

If you like this pumpkin recipe, try a "sweet recipe" – like our fluffy pumpkin cookies!

Ingredients
3 Cups Oats (Soaked)
2 Tsp Pumpkin Pie Spice
2 Pasture-Raised Eggs
1 Cup Organic Pumpkin
1 Cup Coconut Milk
1/2 Cup Coconut Sugar
2 Tsp Baking Powder
1 Tsp Vanilla Extract
Blueberries & Pecan Toppings (Optional – I just like blueberries on everything!)
Directions
Soak the oats overnight in water and a dash of apple cider vinegar.
The next morning, drain the oats and rinse them. Heat oven to 375 degrees F.
In a bowl, mix all of the ingredients together.
Grease a 9×13 pan with coconut oil and put the oatmeal mix in the pan.
Bake for 35-40 minutes.
Towards the end, feel free to add toppings of your liking.
Enjoy!
View this other pumpkin pie based recipe!