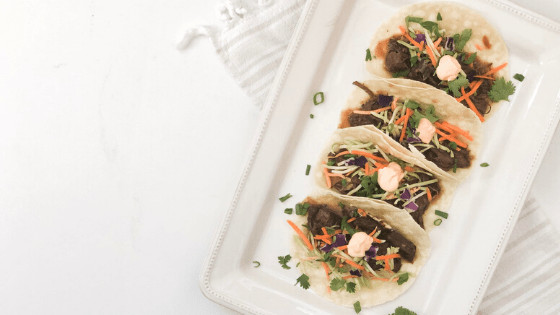 30 Sep

Korean Beef Tacos w/ Sriracha Aioli {Instant Pot Recipe!}

[vc_row css_animation="" row_type="row" use_row_as_full_screen_section="no" type="full_width" angled_section="no" text_align="left" background_image_as_pattern="without_pattern"][vc_column][vc_column_text]This fall season has me excited to use my instant pot more than ever! Everybody would agree that a one pot meal is a sanity saver on a busy week night. These Korean beef tacos could just as easily be prepared in a slow cooker if you don't own an instant pot. I'm all about getting in herbs and veggies so the cabbage or carrot slaw give the perfect crunch.

If your kids don't like the slaw, feel free to cook your veggies in with the meat. I buy the organic pre bagged carrot and cabbage slaw from HEB but feel free to get creative!

The cilantro and green onion add a nice finish but wait….. theres the punch of the creamy sriracha aioli! I buy Chosen Foods paleo mayo as the base of my aioli to save time. You can totally make your own. Primal Kitchen also has a chipotle lime mayo if you want to take an even bigger shortcut!

When you make these Korean beef tacos, tag us on Instagram + Facebook @nuvitruwellness to share what you made! We love connecting with our community + seeing what you are making in the kitchen! So, definitely tag us!

Other Instant Pot meals you can try are…

[/vc_column_text][vc_single_image image="20430″ img_size="full" alignment="center" qode_css_animation=""][vc_column_text]
Instant Pot Korean Beef Tacos
Ingredients
Korean Beef
3

Lb

Chuck Roast

Grass Fed

4

Cloves

Garlic

Minced

1

Tbl

Ginger

Fresh and Minced

1

Tsp

Sesame Oil

2

Tbl

Avocado Oil

1

Onion

Yellow

3/4

Cup

Coconut Aminos

2

Tbl

Maple Syrup

2

Tbl

Arrowroot Starch

2

Tsp

Salt

1

Tsp

Black Pepper

Siete Tortillas

Cilantro

Avocado

1

Package

Carrot Cabbage Slaw

Or just purple Cabbage
Sriracha Mayo
1/4

Cup

Paleo Mayo

2

Tbl

Lime Juice

1

Tbl

Sriracha
Instructions
Pat chuck roast dry with a paper towel

Cut up beef into 6 large chunks and sprinkle with salt and pepper

Press saute on Instant Pot and add oil. Sear the beef until slightly brown on a couple of sides. Add sesame oil, garlic, grated ginger, oinion, 1/4 cup of the coconut aminos, and maple syrup

Hit cancel, seal the lid and set Instant Pot to Manual for 45 minutes.

Natural release (which can take about 20 min) is preffered but you can quick release

In a separate pot on the stove, take 1/2 cup of the juices from the meat and slowly whisk in the arrowroot starch until it forms a thicker roux (and all arrowroot is dissolved). Add this back into the instant pot and stir into the meat.

I serve on Siete tortillas with slaw, cilantro, a lime wedge, avocado, and sriracha mayo on top. All these toppings are totally optional.

Picky eating tip: If your kids have a hard time eating raw veggies, cook the cabbage, slaw, and/or carrots in with the meat. It will be softer to eat and more disguised in the tortilla 🙂 Have them "dip" in some smashed avocado with lime juice.
[/vc_column_text][/vc_column][/vc_row]