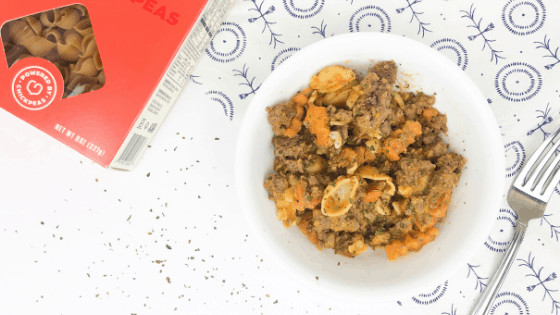 25 Feb

Healthy Hamburger Helper {Gluten Free}

I will be the first to admit – I HATED Hamburger Helper when I was younger. It tasted like junk, in my opinion (and it still does!). But, I know many people who loooove hamburger helper, but they want to be healthier! I get it! So, voila this healthy hamburger helper is born!

One exciting thing about this recipe is that there are veggies hidden inside. 😉 In the sauce, you'll find that it has butternut squash! I also added extra butternut squash as noodles, so I can back off using more Banza noodles. I mean I LOVE Banza – don't get me wrong, but any chance of extra veggies + I'm taking it! One serving of butternut squash will meet your daily requirement for Vitamin A! Also high in fiber, vitamin C, antioxidants, magnesium, and potassium! With it's high ratio of beta- carotene, it aids in the prevention of asthma and asthmatic symptoms.

Did you also grow up eating all the processed boxed foods like hamburger helper? Are you ready to take your childhood favorites and turn them into clean, nutrient dense meals for your family to eat? Tag us at @nuvitruwellness on Instagram + Facebook if you decide to make this healthy hamburger helper recipe, so we can see your creation! 🙂

Healthy Hamburger Helper {Gluten Free}
Ingredients
Beef
1

lb

Grass-Fed Beef

1

lb

Venison

(Feel free to use more beef instead!)

10

Oz

Butternut Squash

Bought as "noodle" form

1

Tsp

Onion Powder

1

Tsp

Garlic Powder

1

Tsp

Paprika

1

Tsp

Dijon Mustard

Salt + Pepper

8

oz

Banza Pasta

We used Shells!
Cheese Sauce
1

Tbsp

Grass-Fed Butter

10

Oz

Butternut Squash

Bought as "noodle" form

4

Cloves

Garlic

Minced

1/2

Onion

Chopped

1 1/2

Cup

Bone Broth

1/3

Cup

Grass-Fed Cheese

Shredded

1

Tbsp

Tomato Paste
Instructions
Over medium/high heat, boil some water in a pot + cook your Banza pasta as instructions on the box!

In a skillet over medium heat, heat up your beef and venison until it's almost cooked all the way through. Now, add your butternut squash noodles, spices, dijon, and mix it all together! Continue cooking until butternut squash noodles are al dente or soft.

Put that skillet's content (beef, spices, butternut squash noodles, etc.) into a big glass bowl and set aside! Put the finished Banza noodles in there too! Mix together!

Utilize the same empty skillet over medium/high heat, but now add the grass-fed butter, onion, garlic, and the other 10 oz of butternut squash noodles. Cook them until the squash noodles are soft.

While you wait for the onions, garlic, and butternut squash noodles to be done, add the bone broth, cheese, and tomato paste to a high quality blender. Once the skillet contents are done, dump them into the blender and blend on high until smooth!

Pour cheese over the beef + noodles in the big glass bowl + serve!