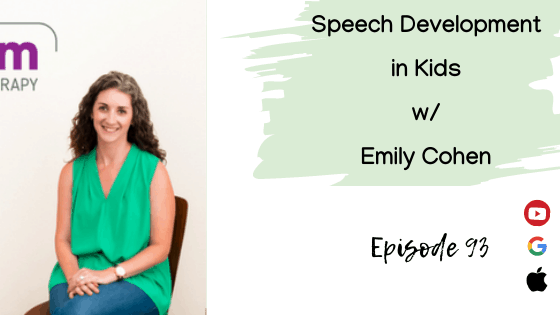 05 Dec

Speech Development In Kids w/ Emily Cohen

We're so excited to be sitting down with Emily Cohen and talk about speech development in kids. Emily is answering common questions about speech development! I also wanted to announce our rebrand to Nuvitru Wellness!
Speech Development In Kids
Some things that we cover in this episode….
How the typical language development looks like
Things parents can watch out for
How you can Play with a Purpose
Favorite toys that are speech pathologist approved!
What we can do as parents to help nurture this skill
About Emily Cohen
Emily Cohen, MA, CCC-SLP pediatric speech-language pathologist Emily Cohen, MA, CCC-SLP is a licensed pediatric speech-language pathologist with an in-home private practice in Austin. Her mission with Tandem Speech Therapy is to provide parents with a tool belt of simple strategies to use during everyday routines and play. She works to empower parents and their children to connect and communicate better as well as face the world with greater confidence. If your child or somebody you know is struggling in this subject, please feel free to reach out to either of us! There are so many wonderful resources out there.
Connect with Emily over on her website and Facebook!
Get your MILESTONE CHECKLIST!
Connect with Lahana from Nuvitru Wellness on the blog, Facebook, Instagram!

Listen to our other podcast episodes. We have episodes on herbal liniments, parasite cleanses, seed cycling, motherhood, and endometriosis.