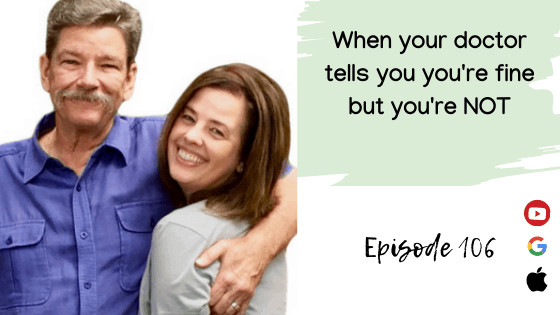 13 Mar

When Your Doctor Doesn't Take You Seriously

A big frustration is when you go to your doctor not feeling good, but they tell you – "well, your labs are fine. Nothing is wrong". What do you do when your doctor doesn't take you seriously?

What do you do?! We chat with Dr. Lewis this week about this and dive into how sometimes you need more than a diet change. There is a whole-body approach that needs to happen!

We've rebranded to Nuvitru Wellness!
What we cover in this episode….
What you need to do when your doctor tells you you're fine, but you don't feel like it
Why lab values aren't always true
Can diet change alone give you results you are looking for
What health conditions respond well with nutrition change
If your doctor doesn't take you seriously, reach out to us on our Services page + see if our speciality with diet and lifestyle is able to help you!
---
About Dr. Lewis
Dr. Stephen Lewis, D.C. and Janet have a long history of helping
people achieve their optimal health, by utilizing extensive, but low
cost lab work. Dr. Stephen Lewis, D.C. stays current on the latest
research pertaining to nutritional supplements and optimal health.
Janet Lewis is a Certified Natural Health Consultant with a unique
perspective on alternative and complementary nutrition from
studying with numerous national leading alternative health experts.
Listen to more of our podcast. We have episodes on sex drive, weight loss, Neurodegenerative Diseases, Ayurveda for kids, Chiropractic For Athletes, and more.