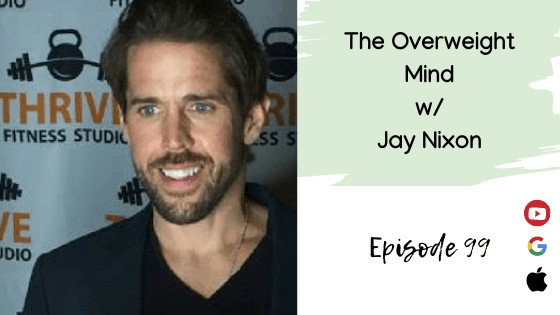 16 Jan

The Overweight Mind w/ Jay Nixon
Jay Nixon
We are so excited to have Jay Nixon on the podcast this week! We're talking about something a little bit deeper than the normal for weight loss. YES, there is so much more to weight loss than the perfect exercise program and a good nutrition plan. Those are really big parts of weight loss, but we're covering something that isn't talked about as much. What we're covering today….
Women's biggest obstacles with weight loss
Why exercising more + eating less doesn't work
What can we do to get to a healthier weight
Quick tips on achieving your weight loss goal
We have rebranded to Nuvitru Wellness!
About Jay Nixon
Jay Nixon is a speaker, author, mentor and coach whose mission is to help each and every person achieve their "absolute best self." He is the owner of the Thrive Fitness Studio in Palm Desert, California and the grateful leader of the Thrive Tribe – a collection of Jay's current and former clients who work together to improve their health, their fitness, and their lives.
For over two decades, Jay has helped thousands of people achieve total body transformation through a cohesive combination of fitness, nutrition, and personal development coaching. Jay believes, "If you give people the right tools, education, and support, they can far surpass what they once thought was their maximum potential." He's known for his innate ability to get inside someone's head, helping him/her achieve life-changing results.
Recognized as a lululemon Ambassador and dubbed by CBS News as, "One of the best fitness and nutrition experts in the business," Jay has been featured on ABC and FOX, and in Triathlete Magazine. When he's not working with clients one-on-one, you'll find him consulting for Fortune 1000 companies in the nutrition and fitness industry.
Where can you find us?