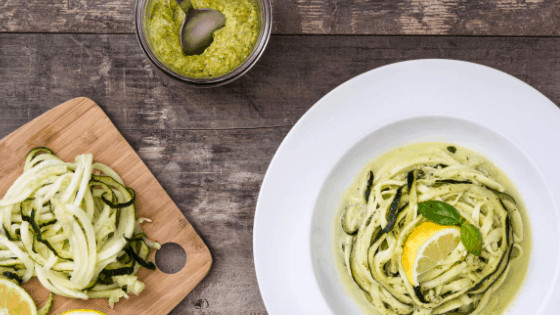 22 Aug

Zucchini Pesto Noodles

I'm a zucchini pesto-lover. Completely. I love it SO much. I haven't been able to get my hands on good ready-made pesto in a long time. It's either too expensive or it uses inflammatory oils or additives. I finally found a good one at Fresh Market called Deallo Simply Pesto.

I love zucchini noodles & spicing them up. These came out so good and even my younger ones liked them! So much flavor! I made this dish with some baked pesto chicken. I marinated the chicken in the pesto for 30 minutes before I baked it in the oven at 350 degrees F. Share with and tag us @nuvitruwellness on Instagram or Facebook when you make this so we can see your yummy creation!

Ingredients
4 Organic Zucchini
Handful of Organic Grape Tomatoes
1 1/2 Tbs Pesto
1 Tbs Tomato Paste
1 Tsp Garlic Powder
2 Tsp Italian Seasoning
Salt
Parmesan Cheese
Directions
Cut the ends of the zucchini off and slice the zucchini halfway through lengthwise (NOT all the way through! This helps cut the zucchini into shorter strands.) Then, use a spiralizer to make noodles out of the zucchini. I used the ribbon cut.
After you spiralize the zucchini, cut the grape tomatoes in half.
Heat up your skillet with your choice oil. (I recommend coconut or avocado oil.)
When the skillet is heated, throw in the zucchini, grape tomatoes, garlic powder, Italian seasoning, salt, pesto, and tomato paste.
Mix everything until evenly coated.
You will only cook this skillet until the zucchini is al dente. If you cook too long, the zucchini will become watery & mushy. Estimated cooking time for how I like zucchini noodles cooked is about 5-7 minutes.
When skillet is done, top with parmesan cheese.
Enjoy!