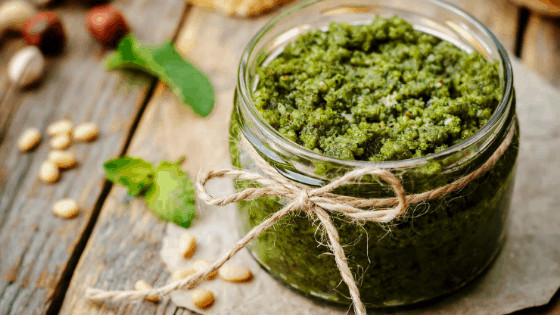 09 Jan

Homemade Pesto

Guilty homemade pesto lover over here! I mean it's the best topping for fish, chicken, veggies, anything! Plus, you use nutrient-dense herbs, like basil. Basil is full of antioxidants, natural anti-inflammatory, immune boosting properties, and aids in liver functions and cardiovascular function. Most of the time, we stick to using dried herbs, so it's always fantastic when you can get some fresh herbs in dinner!

 

Have you come across hundreds of pesto recipes, but it calls for pine nuts and you don't have any? Yeah, me too. When I went to search for a bag of them too, a little bag was $10! I could've spent that much, but I really didn't want to. Not for a little bag of nuts at least.

 

So, you are able to enjoy this pesto recipe without the worry of getting pine nuts!

 

When you make your homemade pesto, tag us over on Instagram or Facebook @nuvitruwellness so we can see what you made!

 

If you like this pesto, try our homemade chimichurri sauce too!

 

Ingredients
2 Cups Basil (Slightly packed)
3 Cloves Garlic (Chopped)
1/2 Cup Olive Oil
1/2 Cup Parmesan Cheese
1/4 of a Lemon (Juice)
Directions
Put all ingredients into a blender or food processor and mix!
You don't have to make it super smooth and creamy. I just like to pulse it until it's well mixed.
Ta-Da! Enjoy!
Put your health first + head to our Services page to request your free appointment in learning how we can help you!