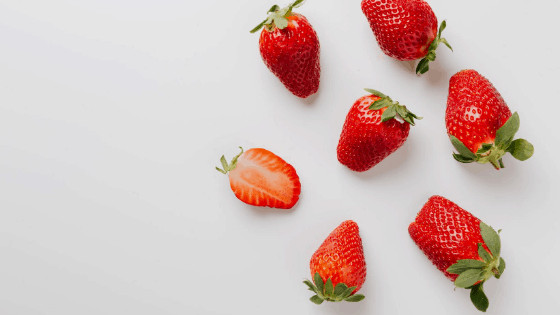 20 Feb

Tips To Bring Home The Most Nutritious Strawberry

This past weekend, we went grocery shopping at Whole Foods and then we REALLY went grocery shopping……strawberry picking.

It's always so fun to get back to our roots and go back to how our ancestors used to grocery shop. Now, don't get me wrong I love just having everything at a store, but I CRAVE stuff like this. We saw the bugs crawl on the fruit. We saw the sweet little green ones growing. I was able to teach my kids what to look for and educate them on strawberries growing. Which made me want to share with YOU some strawberry pickin' tips.

Berries are about to be at their prime in a couple of months. Summer = Berries. MY FAVORITE! Over the winter, we will survive on frozen berries, which are just as nutritious as fresh. But something about fresh berries makes my heart warm.
Nutritional content is highest right after picking!
After most fruits and vegetables have been picked, their nutrient content starts to dwindle with each day that passes. This is big reason as to why you should have your own garden. When you're able to pick a strawberry from a plant, you get a fresh and nutritious fruit. This is why frozen berries can be just as nutritious because they are frozen shortly after picking preserving the nutrients of the berry.
They are packed with vitamin C and antioxidants such as….
–Anthocyanins -has anti-inflammatory properties and can protect you from heart disease and cancer
–Quercetin – has anti-inflammatory properties with protection against cancer and allergies
–Kaempferol – A study showed,
Kaempferol has been reported to modulate a number of key elements in cellular signal transduction pathways linked to apoptosis, angiogenesis, inflammation, and metastasis. Significantly, kaempferol inhibits cancer cell growth and angiognesis and induces cancer cell apoptosis, but on the other hand, kaempferol appears to preserve normal cell viability, in some cases exerting a protective effect.
And SO many more antioxidants and phytochemicals that are beneficial for your health. Aren't you ready to dive into some strawberries?
Look for strawberries that are COMPLETELY red.
If there is any type of white on the strawberry, that means the strawberry is not ready and less nutritious. Strawberries don't mature after picking like most fruits do.  You'll also get a less flavorful strawberry. Strawberries should be brightly beautiful red with even a gloss over it. The more color a strawberry has the more nutrients it carries and delicious it is!
Buy organic when you can!
Berries are some of the dirtiest produce with pesticides. If you are wondering about round-up, which is the most common pesticide that is used, read about it a previous blog we wrote.
They don't last long.
Unfortunately, strawberries don't last long. Eat them within three days of bringing home. The preferred way of storing strawberries is in a container, but you can also leave them out on the kitchen counter to create a more flavorful strawberry!
Look at the bottom of the container
If you aren't able to go to a you-pick place and you buy strawberries from a store, always look at the bottom of the container. Any leaky, wet, or molded strawberries are past the prime. Avoid buying these strawberries.
Are you excited for berry season to be here? What are some of your favorite healthy recipes to use with strawberries?