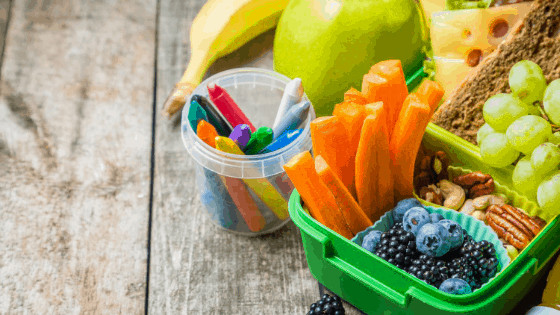 05 Aug

Healthy School Lunch Ideas

Maybe you're tired of packing the same ol' PB + J + you're getting antsy for getting some healthy school lunch ideas because your kids are complaining about eating the same thing all the time and you understand that it's probably not healthy + you're ready for that change!

I understand! Kids get a limited time to eat + you are trying to do the best you can. Sometimes we just need a little motivation + inspiration. So, let me start with my must-haves…
I always pack a fruit. My go-to fruits are bananas, apples, grapes, alllllllll the berries (strawberries, blueberries, blackberries, raspberries, you get it….), pears, oranges, peaches (a real peach – not the syrup-y ones in a plastic container), and that's pretty much it.
I always try and pack a veggie. Outside of the normal raw carrots, celery, sliced cucumber, etc. I like to use leftover cooked veggies. Like roasted broccoli, roasted Brussel sprouts, a little side salad (mixed romaine + spinach), green beans, snap peas, etc. Pretty much anything I had the night before – you'll probably find in lunchbox the next day.
Proteins are a must have for my kiddo (and should be for every kiddo!). Our favorites are hard-boiled eggs, grass-fed hot dogs, lunch meat wraps (Applegate pepperoni + grass-fed cheese), leftover dinner (which can be meatloaf, chicken, meatballs, etc.) Yes, I will occasionally use a nut butter for protein, so almond butter + jelly on a slice of Canyon Bakehouse Gluten Free Bread (the cleanest GF bread you'll find). These are pretty much my go-tos.
Sometimes, I'll do a BIG yogurt parfait thing for my kiddo. Goat milk yogurt or an organic greek yogurt with a dash of applesauce, pomegranate seeds, chia seeds, and cacao nibs. We love using organic squeezable yogurts too!
Drinks – I just pack water. My kiddos are running around sweating throughout the day. They need the water. I'm not a juice person, which you can read here why. So, I use a glass container or stainless steel container for his water.
Feel free to pack some homemade trail mix, nuts, seeds, dried fruit, etc.
We do Jackson's Honest Chips (or any chip made in coconut oil or avocado oil) and the occasional Pirate Booty (not perfect, but it's pretty dang addicting).
It doesn't have to be complex or hard. Anything that is easy for them to grab and eat. A lot of people ask me – is it cold or hot? My kiddos aren't picky with the temps of their food. If it's leftovers or something cold, I'll heat it up in the morning to at least take the chill out + they will eat it at room temp for lunch. No biggie.
Before I show you some past lunches I made, if you're wondering the lunchbox we use – I blogged about that last week, so make sure you check it out!
Head over to Instagram or Facebook + tell us some of your healthy school lunch ideas @nuvitruwellness!
Ready for some real action inspiration? Healthy school lunch ideas – here you go!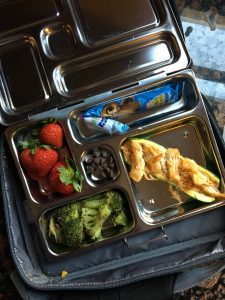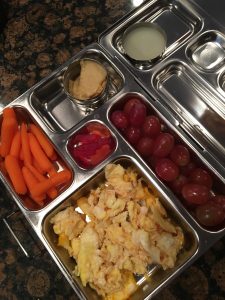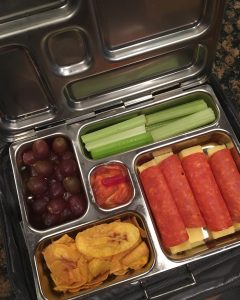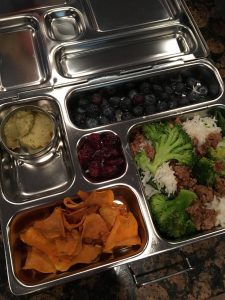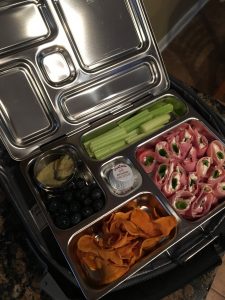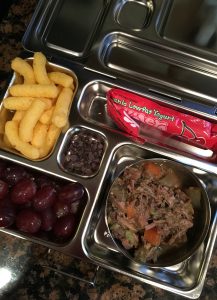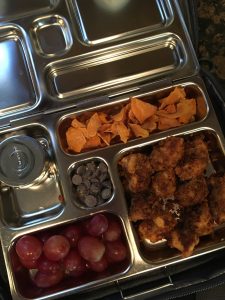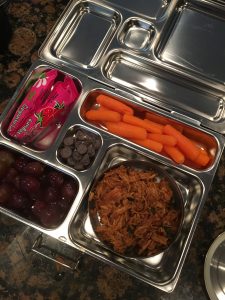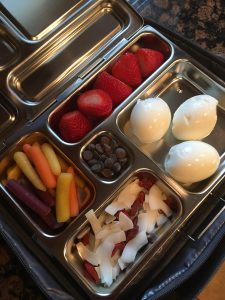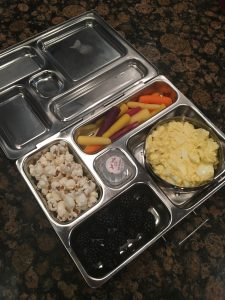 Buffalo Chicken Zucchini Boat, Broccoli, Strawberries, Dark Chocolate Chips, Yogurt
Coconut Chips, Yogurt, Chicken On Romaine + Spinach Salad
Grapes, Carrots, Hummus, Scrambled Eggs, Annie's Gummies
Pepperoni + Grass-fed Cheese Roll-Ups, Celery, Grapes, Plantain Chips
Blueberries, Rice, Grass-Fed Beef, Broccoli, Sweet Potato Chips, Hummus, Dried Cranberries
Ham Rolls (Organic Cream Cheese + Green Onions Inside), Celery, Sweet Potato Chips, Hummus
Organic Yogurt, Beef Stew, Grapes, Enjoy Life Chocolate Chip, GF Cheese Puff
Sweet Potato Chips, Grapes, Almond Flour Breaded Chicken Nuggets
BBQ Shredded Chicken, Grapes, Carrots, Yogurt
Hard Boiled Eggs, Coconut Chips, Goji Berries, Strawberries, Carrots
Egg Salad, Carrots, Popcorn, Blackberries, Justin's PB Cups