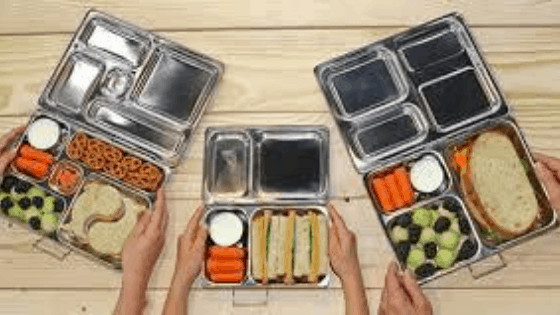 03 Aug

What Lunchbox Is Best? Planetbox? Yumbox? Bentgo?

Each school year this question comes along social media. What lunchbox is best? Moms are looking into new awesome lunch boxes for their kiddos for the new school year! Now, I'll be up front with you – I *might* be a little biased towards Plantbox. Not because I'm affiliated with them (which I'm not). Just because I love them + chose those lunch boxes for my kiddos. And they. are. AWESOME.

But, the most common ones that Planetbox are up against are Yumbox + Bentgo. So, which one is better? I decided to write down my Yumbox vs Bentgo comparisons for you, so you can decide what is right for your kiddos + your budget!
Learn the Differences Between Yumbox vs Bentgo
I'll start with Planetbox, since this is the one I have. One major pro that I LOVE about Planetbox is that it's made of stainless steel! No plastic. Our goal was to get something super sturdy to uphold throughout the years of elementary school. Be as non-toxic as possible.
We've used this for a couple of years now + it's just as awesome as the day we bought it. They hold up really well due to being stainless steel. I loved the various compartment sizes to use. The amount of food that you can put in it is a great amount for an elementary school student. This is the biggest of them all.
It also comes with containers – a small one for condiments or a large container that can hold more liquid-y items. It has a rubber sealing thing on the top. You CAN'T hold liquid-y items inside the major lunchbox part. You need to use the containers with the lids for that. I haven't had an issue of foods going into different compartments when shut.
The Planetbox doesn't keep things cold or hot. You would need to put an ice-pack inside the carrying case of the Planetbox. It works great. The price is a little bit of a con. It was $80 to purchase it. BUT so worth it, as it will uphold for MANY years. We were buying $15 lunch boxes every year + it adds up. So, this investment was worth it. (The clean-up of the planet box is super easy!)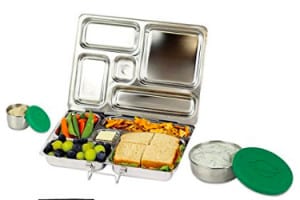 Next up is the Yumbox! This also has awesome compartments to use to create a variety of nutritious foods for lunch. It has a silicone top that helps prevent any leaks into the different compartments, BUT it's still not ideal for liquids. When I looked at reviews though, I saw people having problems with it leaking after a couple of months. It doesn't keep foods hot or cold either. You'd need an ice pack. I heard the cleaning of the Yumbox is a little more difficult.
A couple things that steered me away from the Yumbox was that it was still plastic. Even though it's 'BPA-free', that just means it uses other chemicals to make it that can be just as bad. Most plastic items don't last as long as stainless steel. I also hate the staining of plastic with certain foods, like pasta sauce. The size is ideal for smaller kids, but I was worried it might be *too* small for my hungry boy! So, we decided to pass on this one! But, it could work perfect for a pre-schooler/younger elementary student.
The price is also more affordable, as it is only $30. You can choose from a blue one, purple one, pink one, etc!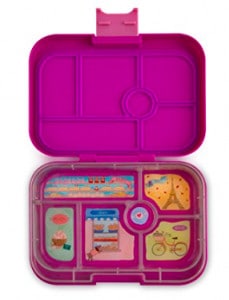 Last, but not least, the bentgo lunch box! These are so cute! They have the compartments for a variety of nutritious foods! Since it's a "thicker" inside, you can't put as much food as the other two choices. It's also meant to be leak proof between the different compartments + I heard that these are MUCH better being leak-proof compared to the Yumbox!
Unfortunately, there still is the use of plastic. Even if it's 'BPA-FREE' – you know how I feel about this issue by now. ? The size of a Bentgo is also ideal for smaller children + little hands! These are also pretty affordable at only $27. The cleaning might be a little more difficult because of the deeper compartments.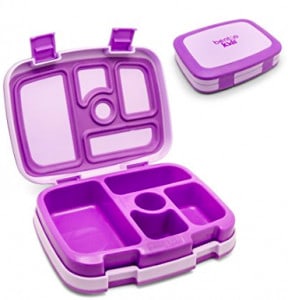 When purchasing a lunchbox, you have to choose one that fits what you want. Your budget. How long you want to use it for. How big of an appetite your kiddos have. If avoiding plastic is important to you.
Hopefully, this article helped you understand the similarities and differences of Yumbox vs Bento lunchboxes.

What lunchbox do you have or want?
*This blog post contains affiliate links.
If you are looking for a certified nutritionist near Austin, Texas, or surrounding areas, Nuvitru Wellness is the right choice. Get in touch with a registered dietitian for holistic nutrition services.