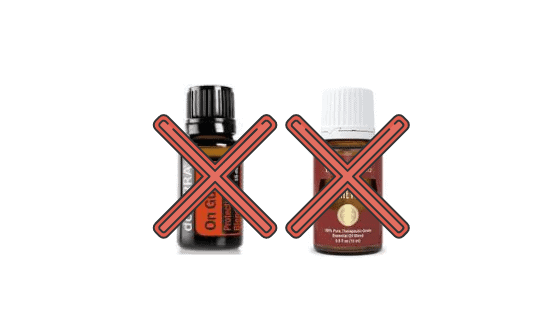 27 Feb

Why certain Oils Shouldn't Be Used On Kids

**Are you wondering "Is on guard safe for babies?" Before typing into the chat box that will pop up below asking questions about this, please finish reading the blog on these. Most likely the answer you are looking for is in here! 🙂 Also please note, every child is truly different and some people use these oils with no problem! I'm only here to bring you info that was taught to me by aromatherapists outside of MLMs. There are safer options for little ones that will give you the same benefits (my recommendation is below!). Thanks for coming by XO

If you are reading this blog, you are most likely an essential oil lover! (Me too!) Trust me, I love using essential oils in my house and on my family, but only in the correct way. I love learning directly from a certified aromatherapist. One huge pet peeve I have is that there are MANY people trying to teach about essential oils coming from an MLM (multi-level marketing company) and not going to aromatherapy school getting properly trained or at least researching and getting educated outside of what the MLM teaches you. No matter what, I'm a huge proponent of getting out there and researching yourself because it's easy to fall for marketing tactics.

I remember when I first entered the "essential oil world" and I talked to quite a few of my friends doing one of these businesses and they said "yeah, any essential oil from THIS company is safe for kids because of our therapeutic grade quality." WRONG. Quality is very important, but quality doesn't change the plant constituents.

*This doesn't mean everyone who does a multi-level marketing company, like doTerra or Young Living, is wrong. I also know people who use these oils/have a business and follows proper essential oil protocol, but this isn't the majority unfortunately.*
What's in OnGuard & Thieves?
First, let's start off with the ingredients of OnGuard and Thieves. Taken straight from their essential oil bottles….
OnGuard: Wild Orange Peel, Clove Bud, Cinnamon Bark, Eucalyptus Leaf/Stem, and Rosemary Leaf/Flower essential oils.
Thieves: Clove (Syzygium aromaticum)† bud oil, Lemon (Citrus limon)† peel oil, Cinnamon (Cinnamomum verum)† bark oil, Eucalyptus (Eucalyptus radiata)† leaf oil, Rosemary (Rosmarinus officinalis)† leaf oil
What's In These Oils That Shouldn't Be Used On Kids?
One person in the aromatherapy world that I look up to Robert Tisserand. He is one of the world's leading experts in aromatherapy. I LOVE his book Essential Oils Safety and should be in the household of every person that uses essential oils. One topic he covers is kids and essential oils – where I was introduced that not all oils are equal for kids.
Some essential oils that are in these blends that shouldn't be used on kids are:
Eucalyptus – Shouldn't be used in kids under 3 in ALL routes. Children three + above can use it in a diffuser or topically  up to 1% dilution. Eucalyptus radiata is the recommended eucalyptus chemotype recommended for children. For children, it's not recommended to use eucalyptus on or around the face.
Clove – Shouldn't be used in kids under 2 (topically)
Cinnamon – Shouldn't be used in kids under 2 (topically)
Rosemary – Shouldn't be used in kids under 10 (ALL routes, diffusing & topically)
is on guard safe for babies and Children?
These essential oils contain various plant constituents that can affect a child's breathing/respiration rate, such as a high percentage of 1,8 cineole – which is in eucalyptus and rosemary.
Cinnamon and clove are some pretty strong essential oils and can be irritating for a small child.
This blend is a very strong blend and shouldn't be used on small kids (even if you dilute it). Why risk it? So is on guard safe for babies? No, you shouldn't as it can be irritating for small kids.
So, what to use?
I'm glad you asked! Robert Tisserand created his own 'Germ Destroyer' blend in Plant Therapy that is KID SAFE! There are other oils that can do the same thing, but doesn't have the strong irritating oils. This is the blend that I will diffuse around my kids when I know they've been around sickness or if they are coming down with something. And I can use it knowing that these oils are safe for my little ones. (I don't make any money with you clicking the picture below and buying this essential oil.)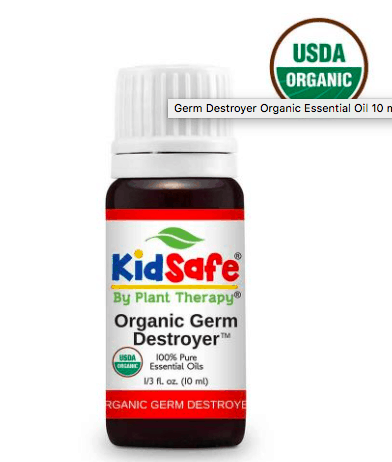 Have you tried out Germ Destroyer before? Have you heard of not using OnGuard or Thieves on kids?
Learn more about other products that are and aren't safe for kids!
Get certified nutrition advice from a Registered Dietitian in Austin, TX. We practice a holistic approach to diet and lifestyle changes for overall health and well-being.