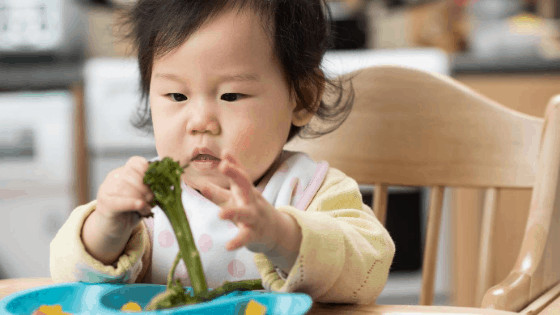 20 Jan

Introducing Baby To Solids

I've talked about infant formula before, so now what happens when your baby is ready for solids? Here are some of my top tips of making sure that you're introducing baby to solids the best way! 🙂
You want to make sure that your baby is at least six months old. Not four. SIX. I want to emphasize that because a lot of doctors and practitioners may not be up to date with current research and they're still recommending four months. Even the American Academy of Pediatrics is recommending to wait until six months. Six months ensures that the digestive mucosal lining is matured enough.
Even though solids can be introduced at six months, any food before one is just for fun. Ever heard that saying? It's true. Breast milk and/or a good formula should be top priority for the first year of life. Nothing can replace that!
Skip the puréed stage. Infants jaws are MUCH stronger than we think and chewing soft cooked foods can actually help with proper oral development. We talked with Dr. Medina on the podcast about this exact topic! This also allows for the child to learn and realize how big (or little) of a bite they can eat. Gagging happens (trust me, I went through it with my second), but it's not choking. Babies have a gag reflex that is closer in the mouth than ours is as adults. As I introduced new foods, I always stayed close and kept an eye on her eating.
Always start with one food at a time and soft cooked foods. You should be able to easily squish these foods between your fingers. These are some popular healthy choices: Avocado, Eggs, Cooked Carrots, Sweet Potato, Banana, Applesauce (or Soft Cooked Apples), Squashes, Pumpkin, Bone Broth, Liver, Soft Cooked Meats. You can easily cook them foods you're eating to make it less stressful on you. You might need to cook theirs longer to make sure it's soft.
The only food you need to wait to introduce after one is honey!
I always recommend sticking with vegetables, fruits, and meats in the beginning. I want to keep as wholesome as possible. I want them to develop a palate for real food. Skip the processed junk like breads, crackers, rice cereal, pasta, cereals, etc. It's just as easy to throw a banana or avocado or cooked sweet potato in your bag. If you're in a pinch and need some quick snacks, those organic food pouches can be handy. We love Once Upon A Farm!
You can leave food big for them to grab, hold on, and snack. Like I mentioned in step three, they are learning about the size bites that are perfect for them. If you're feeding them a round food, like grapes, it's recommended you cut it in quarters.
Feeding them soft-cooked foods instead of just puréed can help avoid texture issues in the future.
I wouldn't recommend juice for infants or toddlers. Juice is a whole other topic that you can find on the blog over here!
I hope these tips help as you transition your baby to some solid foods. It's an exciting time to start your baby's nutrition and health path off to a right start!