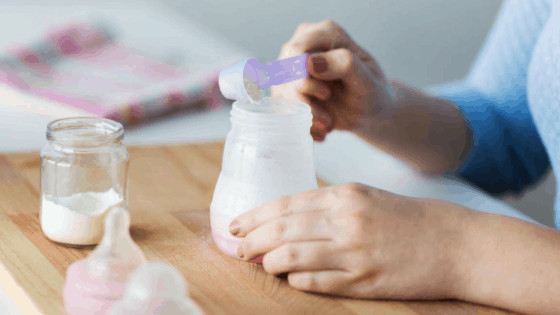 25 Jun

Healthy Infant FOrmula

*If you are new mom looking into the different ways of feeding your baby and curious about healthy infant formula, I highly encourage you to read my blog on breast milk first, which you can read here. I can't express how much breastfeeding can impact your baby in a positive way. If you can't breastfeed, the next best option would be to find a milk donor. You can do this by finding someone you personally know or you can find one through a milk bank near you where they test it and deliver it to you. Human milk will always bypass anything labs can create.*

The next option you have is formula, which is what I want to cover today! Unfortunately, no formula is perfect. The better brands still have some ingredients that are questionable, BUT there are definitely better healthy infant formula out there than the common U.S. infant formulas. You know my main pet peeve with the U.S. infant formulas? They don't have strict rules and regulations like the European brands of formula do. Europe has banned many synthetic ingredients from infant formulas, while the U.S. still allows it in ours. Some problematic ingredients in formula are….
Carrageenan – Banned in European Union because of the studies linking it to inflammation in the gut. You'll still find this ingredient in organic formulas in the U.S.
Sugar-Sweetened (Syrup solids, Maltodextrin, Sugar) – In many U.S. popular formulas, they use these type of sweeteners in them. These aren't natural for a baby & only a lactose sweetener should be used in formulas. This will be the closest sweetener to breast milk for a formula. The European Union banned the use of sugar in formulas because of the increased risk of childhood obesity and overeating.
Algae/Fungus DHA/ARA – When you see a formula talk that it has added DHA & ARA, it's from an algae and fungus made in a lab. DHA & ARA are natural fatty acids found in human breast milk and necessary for the development of the neurological system. The DHA/ARA found in infant formulas produce no kind of benefit compared to what is naturally found in human breast milk. A problem with getting DHA/ARA from this algae/fungus source is that it's extracted using hexane. Hexane is studied to be a neurotoxin.
Taurine, L-Carnitine and L-Methionine, Lutein, Lycopene, Nucleotides- These synthetic ingredients are BANNED in the European Union in organic formulas. These ingredients are also extracted using neurotoxins, like hexane. Most of these ingredients are healthy and needed in our body, BUT the source that these ingredients are coming from are not natural. Companies should find a better source of these ingredients.
Soy – You can read all about soy here. In infant formulas, companies use the most processed type of soy, which has negative health benefits, such as soy oil.
You guys, I'm only hitting SOME of the popular ingredients that are in these formulas. This is not all of it. I don't even talk about how all the vitamins that are added into the formulas are all synthetic. Why isn't there a whole-foods based infant formula? It blows my mind. The milk used in U.S. formulas are from cows that are fed grain, both organic and conventional, which is a food that cows are not meant to eat. Cows are meant to eat grass and be pasture-raised. This is not how the cows are raised in popular formula brands in the U.S. In bold are some of the ingredients we talked about above. Similac & Enfamil has similar ingredients, which are…
Nonfat Milk, Lactose, Whey Protein Concentrate, High Oleic Safflower Oil, Soy Oil, Coconut Oil, Galactooligosaccharides. Less than 2% of: C. Cohnii Oil, M. Alpina Oil (Synthetic DHA/ARA), Beta-Carotene(Synthetic Preservative), Lutein, Lycopene, Potassium Citrate, Calcium Carbonate, Ascorbic Acid, Soy Lecithin, Potassium Chloride, Magnesium Chloride, Ferrous Sulfate, Choline Bitartrate, Choline Chloride, Ascorbyl Palmitate, Salt, Taurine, m-Inositol, Zinc Sulfate, Mixed Tocopherols, d-Alpha-Tocopheryl Acetate, Niacinamide, Calcium Pantothenate, L-Carnitine, Vitamin A Palmitate, Cupric Sulfate, Thiamine Chloride Hydrochloride, Riboflavin, Pyridoxine Hydrochloride, Folic Acid, Manganese Sulfate, Phylloquinone, Biotin, Sodium Selenate, Vitamin D3, Cyanocobalamin(B12 that is the LEAST bioavailable to our body) , Calcium Phosphate, Potassium Phosphate, Potassium Hydroxide, and Nucleotides (Adenosine 5'-Monophosphate, Cytidine 5'-Monophosphate, Disodium Guanosine 5'-Monophosphate, Disodium Uridine 5'-Monophosphate).
If you are looking for a better alternative, HiPP will probably be your best bet. HiPP is an organic formula from the European Union. They have much stricter regulations on infant formula. Even though they are NOT perfect, it's a much better alternative. HiPP explains their standards for the milk they use,
HiPP uses only milk from farms that operate strictly according to the guidelines of EU organic farming. The cows are kept humanely and grazed on natural meadows, which are farmed without chemical fertilizers and without synthetic chemical pesticides.
The ingredients in the formula is MUCH cleaner than the ones here in the U.S. Organic, pasture-raised dairy, lactose for a the sweetener (closest thing to breast milk), DHA oils from fish, etc. Ingredients of HiPP are..
Organic skimmed milk, organic whey powder (partially demineralized), organic vegetable oils (palm oil from sustainable organic production, rapeseed oil, sunflower oil), prebiotic fibers (galacto-oligosaccharides from lactose), organic lactose, whey protein, potassium citrate, calcium chloride, LCP oils (fish, vegetable), L-phenylalanine, sodium citrate, calcium carbonate, mangnesium sulphate, calcium orthophosphate, vitamin mix (vitamin C, vitamin A, thiamin (vitamin B1), vitamin B6, pantothenic acid, niacin, vitamin E, folic acid, vitamin K, vitamin D, riboflavin (vitamin B2), biotin, vitamin B12), L-tryptophan, iron sulphate, zinc sulphate, stabiliser (lactic acid), inositol, copper sulfate, potassium iodate, manganese sulphate, sodium selenate.
Another brand that is similar and comparable to HiPP is Holle. The ingredients are very similar, but they still use maltodextrin from an organic source (likely from corn, rice, or potatoes).
So are you going to find the perfect formula? No. As a mom, we try to do our best with everything that we do for our kids. Our children's nutrition should be one of our top priorities. You are not just creating a healthy body for your child, but for your future generations of grand-children. It pains me to see pharmaceutical companies to not produce the best quality formula out there for our sweet babies. So it's our jobs as parents to figure this stuff out & feed the best formula possible when you formula feed.
One of the easiest places that I've found to order HiPP or Holle is from Huggable!
Side Note: Don't feel guilty if you've fed your baby these formulas in the past. I always like to remind parents that we make mistakes. We aren't perfect. We learn and get educated to do better in the future.
In Health,
Lahana Vigliano
P.S. Interested in learning more about making your own homemade formula? Check out Weston A Price's recipe!