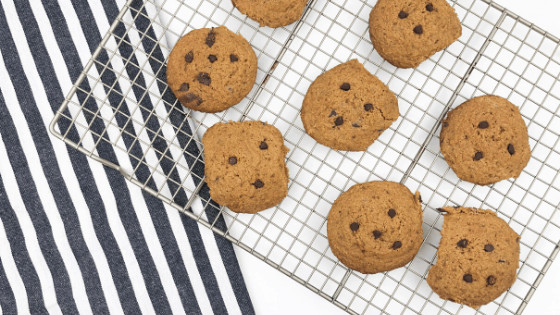 24 Dec

Fluffy Gluten Free Chocolate Chip Cookies

These gluten free chocolate chip cookies are mouthwatering + FLUFFY! There are two groups of people: One group likes fluffy cookies and the other group likes crunchy, hard cookies. Which one are you? For all my fluffy people, this is perfect! I made this recipe awhile ago + forgot to put it on the blog – OOPS! #momlife ya feel me?!

This is a classic recipe though + perfect for not only the holidays, but ANY day in the year. But, if you're searching for a good cookie for Santa, this is a good one! 😉 (As I post on Christmas Eve!)

I used my electric mixer and a cookie scoop for this recipe. It's straight forward, simple, + hopefully you have all of the ingredients on hand! My kind of recipe. 😉

If you make these cookies, can you do us a favor? Head over to Instagram or Facebook and give us a tag @nuvitruwellness. We live to see ya'lls creation with our recipes. It brings us crazy joy + we'd love to share it! And we also love connecting with you over social media! So, make sure to send us a message and say HI!

Now get to baking these gluten free chocolate chip cookies!

If you love these cookies, don't forget about some awesome sugar cookies to add to your baking list!

Don't forget to visit our Chocolate Chip Muffins recipe.

Fluffy Gluten Free Chocolate Chip Cookies
Ingredients
8

Tbsp

Butter

Grass-Fed, Softened

1

Tsp

Vanilla Extract

3

Eggs

Pasture Raised

3/4

Cup

Coconut Sugar

2

Cups

Almond Flour

1

Tsp

Apple Cider Vinegar

1

Tsp

Baking Soda

Chocolate Chips

Enjoy Life
Instructions
Preheat the oven to 350 degrees F. Line a baking sheet with parchment paper.

In a bowl, mix together the softened butter, eggs, and vanilla extract. The butter may not be dispersed evenly, but the eggs and vanilla extract will be mixed together well!

Add in the bowl the coconut sugar, almond flour, apple cider vinegar, and baking soda. Mix well until combined into a soft dough.

Fold in the chocolate chips. Use as many or as little as you want. Once chocolate chips are folded in, take a cookie scoop and start putting a scoopful of cookie dough on the baking sheet. Bake for 10-12 minutes.

Let cool off on cooling rack. Enjoy these fluffy cookies!