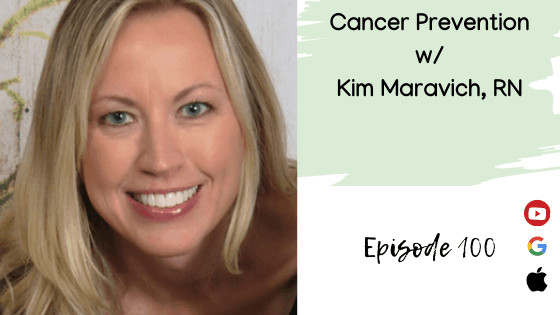 23 Jan

Cancer Prevention w/ Kim Maravich, RN

Kim Maravich gives us the deep roots on cancer prevention. We have rebranded to Nuvitru Wellness!
Episode 100 – Cancer Prevention
You guys, WE MADE IT TO 100 EPISODES! I'm so thankful for you! I never take for granted each "listen and download" of the podcast. Truly, you guys are my tribe. SO grateful for you.
In order to celebrate our 100 episodes, a giveaway is a must! RIGHT?! We're giving away ONE 6 session package with me! This is about 2-3 months working together! You don't have to be local to Austin, TX, but we are only taking US residents right now. If you're anywhere in the 50 states, we can work together – yay!
ENTER THE GIVEAWAY!
In this episode, we're talking about cancer prevention, which Kim talks about in her book 360 Health.
What brought Kim to a more holistic approach coming from a conventional RN education
Some cancer protective foods
Why saturated fats and and meat AREN'T dangerous to your health
How you can help your body detoxify
Health benefits from sex
About Kim Maravich
Kimberly Maravich's background as an RN led to her passion for preventative healthcare and nutrition. While pursuing a BA in English, her love of writing began. She also has an MA in Teaching and worked for more than 12 years as an elementary school teacher. She now combines her talents and enjoys educating and encouraging others to optimize their health through her writings.
She believes that self-care is the deepest form of love, as we can't fully care for others when we put ourselves last.  Good nutrition, moderate exercise, and great sleep are the keys to physical health.  Just as importantly, gratitude, prayer and spiritual practice, and friendships do wonders for overall wellness.
Kim lives outside of Pittsburgh, PA with her loving husband and two adorable little boys. Their home is filled with excitement, laughter, and much love.
Find Kim over on Facebook + Instagram + Twitter +Website + Book
Find Lahana over on Nuvitru Wellness Facebook + Instagram + Blog!