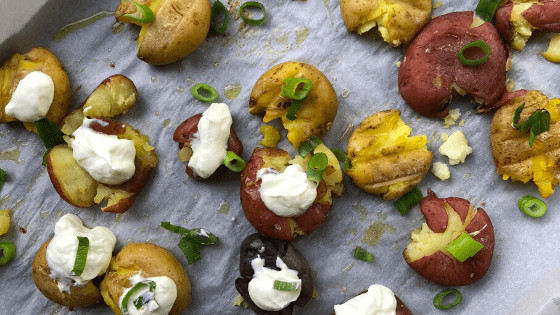 02 Apr

Easy Smashed Potatoes

I served these Easy Smashed Potatoes for Easter dinner + am obsessed with how easy it is! Plus, it's always nice to put a new twist on good ol' potatoes because they can get bland and plain after a while.

Since we don't have sour cream often, we decided to indulge and top these babies with a dollop of sour cream and it was just as good as you can imagine. 😉 When I'm looking for sour cream, I'm looking for sour cream made with milk from pasture-raised cows. If you can't find it at a local grocery store, you can find it at Whole Foods, Sprouts, or other  more natural health store.

Don't fret about the amount of carbs in potatoes. They are such a great source of prebiotics (good gut food) vitamins, and minerals. You can read more about my blog on carbohydrates here. 

 

If you need some ideas on what to serve these potatoes with, we did a roasted whole chicken and balsamic glazed asparagus!

Easy Smashed Potatoes
Ingredients
25

Small Potatoes

I used small classic blender potatoes.

2

Tbsp

Olive Oil

Salt

Sour Cream

Optional For Topping

Green Onions

Optional For Topping
Instructions
Preheat oven to 350 degrees F.

In an Instant Pot, put 1 1/2 cups of water in the pot with your wire rack that comes with the Instant Pot.

Put all your potatoes in the pot. Put on the lid and seal it. Manual high pressure for 5 minutes.

When it's done, do a quick release of pressure.

Line a baking sheet with parchment paper and take out the potatoes from the Instant Pot and line them on the baking sheet.

Using a potato masher, lightly press down to flatten the potatoes. They should be pretty easy to squish down after the pressure cooking.

Brush a little bit of olive oil and pink salt on top of each. Bake for 10 minutes in the oven.

Feel free to dress these up with sour cream or green onions or eat them plain with your meal!
Tag us on Instagram + Facebook @nuvitruwellness when you make our yummy smashed potatoes! We love to engage and support you making nutritious food to feed yourselves and your families! Nuvitru Wellness is always here to support you.