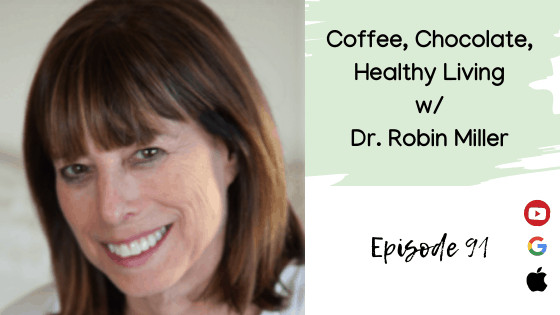 21 Nov

Episode 91 – Coffee, Chocolate, Healthy Living w/ Dr. Robin Miller

It was such a blast to talk with Dr. Robin Miller. Love her passion for what she does and she makes healthy living fun and delicious with common favorites like coffee and chocolate. When you think of healthy living, do you think coffee and chocolate are possible? Absolutely! She will also have you falling in love with foods like mushrooms because what they can do for your health!

I also wanted to mention we have rebranded to Nuvitru Wellness!
She gives us awesome healthy living tips that can be found in her book HEALED!
You don't want to miss this episode.
About Dr. Robin Miller
Dr. Robin Miller – an established author (The Smart Woman's Guide to Midlife and Beyondand Kids Ask the Doctor), Dr. Miller has gathered the knowledge, insights and anecdotes offered in this book over the course of 33 years of treating patients using the principles of integrative medicine. Board certified in Internal Medicine, she trained with Andrew Weil as an Integrative Medicine Fellow at University of Arizona.
She is currently Medical Director of Triune Integrative Medicine, a highly innovative integrative medicine clinic in Medford, Oregon. She blogs regularly for Sharecare.com, an interactive health and wellness website founded in conjunction with Dr. Mehmet Oz, where she serves as Executive Advisory Board member. Robin is also a medical reporter and a regular correspondent for KOBI-5, the NBC affiliate in Southern Oregon.
Find Dr. Robin Miller over on Facebook, Instagram, Twitter, YouTube, and her website!
Check out her book Healed's website!
Find Nuvitru Wellness on Facebook, Instagram, and the blog!
For easy listening for this podcast episode, listen on iTunes, Google Play, and Stitcher.