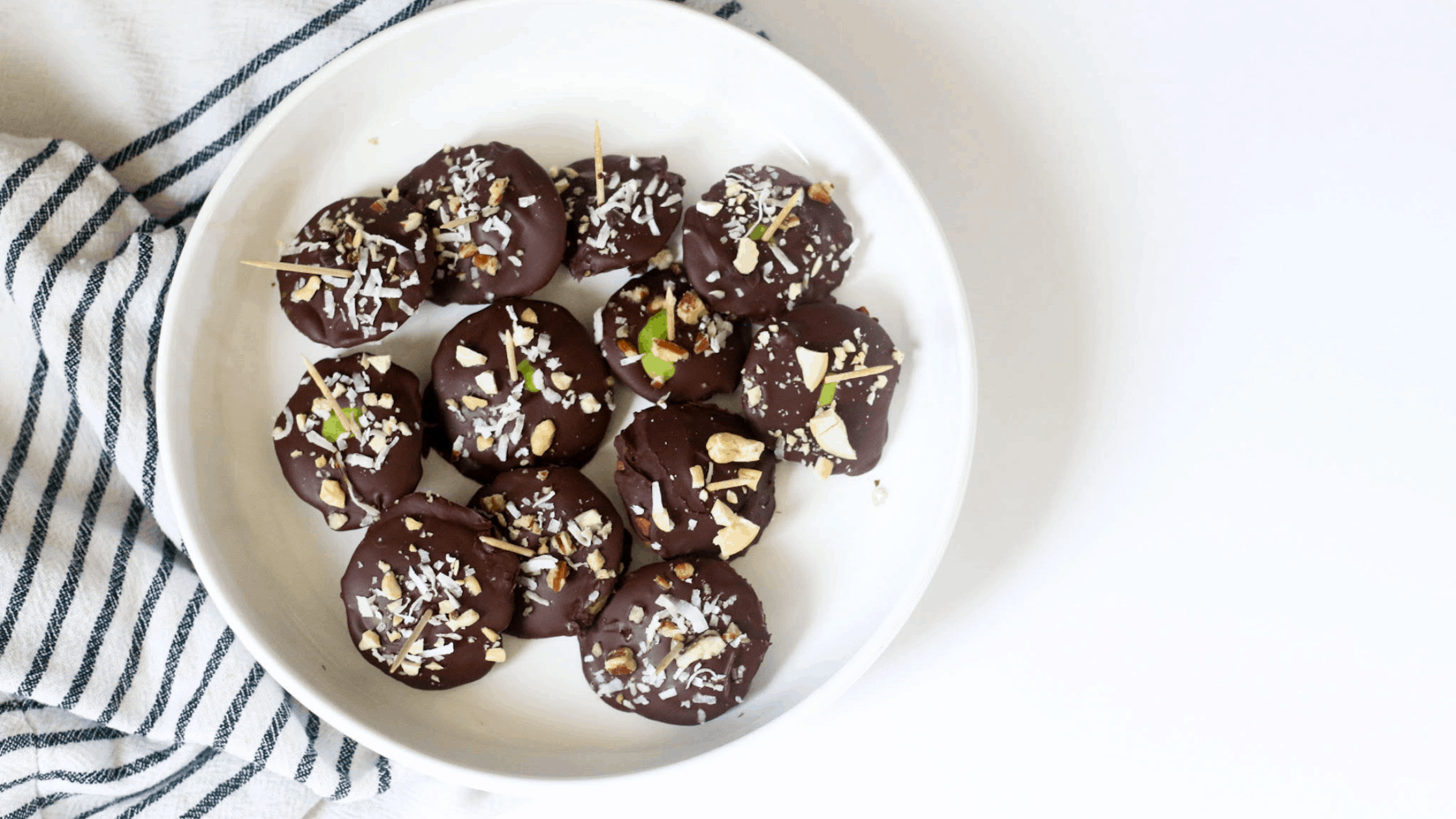 29 Oct

Dark Chocolate Apple Dippers (Organic)

Yesterday, my son wanted one of those massive 1000g of sugar candied apples at the store, which is why i decided to make these dark chocolate apple dippers. They are the perfect 2-3 bite treat made with tart green apples, organic 70% dark chocolate and topped with crushed cashews, pecans, and unsweetened coconut. Now you could get creative and decorate for Halloween with sprinkles or nut butter drizzle.. yummmmm!

The trick to not burning my chocolate was to add a few drops of avocado oil. This helped spread the coating on evenly without clumps. I added a photo of my preferred size apple rounds I cutout about 3-4 rounds per apple using a serrated grapefruit spoon. You could do this using regular slices as well! I let my kids place the toothpicks and sprinkle the toppings before we let them set in the fridge.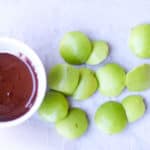 Because there is surplus of leftover apple with this recipe, I used all my scraps to make our homemade cinnamon applesauce. Of course you will an additional assortment of apples for this!
What do you make for healthy Halloween treats?! Tag us on Facebook or Instagram when you make these dark chocolate apple dippers. We love seeing your creations and engaging your children.

Little Apple Dippers
Ingredients
1/2

Cup

Dark Chocolate

3

Green Apples

2

Tbsp

Cashews

Crushed

2

Tbsp

Pecans

Crushed

2

Tbsp

Coconut Flakes

Unsweetened

Toothpicks
Instructions
Wash apples and dry them.

Add a sheet of parchment paper to a baking sheet.

Using a grapefruit spoon, cutout small circles. (About 4/apple)

Add toothpick down the center of each apple round. This makes it easier to dip.

In a bowl, add chocolate with a drizzle of avocado oil. Heat in microwave 20-30 seconds. Be careful not to burn the chocolate

Dip each apple round in the melted chocolate and place on parchment paper.

Sprinkle crushed nuts and coconut flakes.

Use the remains of the apples to make our home made apple sauce.