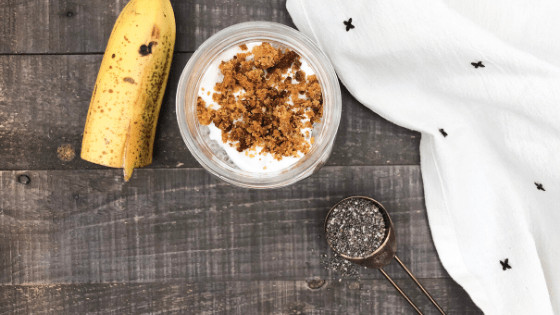 20 Jan

Chia Seed Banana Pudding

One thing that I LOVE is banana pudding. I LOVE when you go into classic BBQ places + they have banana pudding – so damn good. The only thing is that normal banana pudding is full of crud. I'm sorry to be the bearer of bad news. But seriously, the worst. You'll be excited to try our chia seed banana pudding!

I want to be able to enjoy all these delicious treats without putting junk into my body because if you put in junk, you're going to feel like junk.

This recipe is crazy easy to make, especially the pudding. If you want to skip on the wafers and even skip on the coconut whipped topping, go ahead! (But those really do make it even more delicious!)

So, why exactly are they all the rage? First, chia seeds are a pretty balanced seeds with their macronutrients. They have the perfect amounts of fats, carbohydrates, AND protein. And did I mention that they are loaded with fiber that can help feed those good gut bacteria I'm always talking about for a healthy gut! They have both omega-6 and omega-3, but 3x the amount of omega-3! Which means, chia seeds can reduce some inflammation. These little chia seeds are packed with nutrients such as…..
Calcium
Phosphorus
Manganese
Zinc
Potassium
How can they keep you young? Chia seeds have strong antioxidants, which reduces the amount of free radicals in our body. Free radicals are a huge part in speeding up the aging of your body on the outside (your skin & wrinkles) AND the inside.
Read more about the benefits of chia seeds here!
Here is the coconut whipped topping I use in this recipe!
When you make our chia seed banana pudding, tag us on Instagram or Facebook @nuvitruwellness.

Chia Seed Banana Pudding
Ingredients
Pudding
1 1/2

Cup

Coconut Milk

2

Bananas

Ripe*

1

Tsp

Vanilla Extract

1/3

Cup

Chia Seeds
Wafers
3

Tbsp

Grass-Fed Butter

Room Temp, Softened

1

Cup

Almond Flour

1

Tsp

Baking Soda

2

Tbsp

Tapioca Flour

2

Tbsp

Coconut Flour

1/2

Cup

Honey

1

Tsp

Vanilla Extract

1

Egg
Instructions
Pudding
For the pudding, put the coconut milk, bananas, and vanilla extract in a blender. Blend until smooth.

Pour the banana mixture into a bowl and mix in with a spoon the chia seeds. Refrigerate overnight.
Wafers
Mix the almond flour, tapioca flour, coconut flour, butter, baking soda in a bowl.

Add the egg, honey, and vanilla extract. Mix well until everything is well incorporated.

Put the batter in the fridge for a couple of hours to firm up.

Preheat oven to 350 degrees F. Take a cookie scooper and scoop up the batter to make a cookie. Place on baking sheet lined with parchment paper. Cook for 10-12 minutes.

Let cool. I ended up crumbling them up for the pudding.
Mix TOGETHER!
The next day, put a layer of the chia seed banana pudding. Next layer put some coconut milk whipped topping (I buy in frozen section of Whole Foods), and top with crumbled wafer cookies!