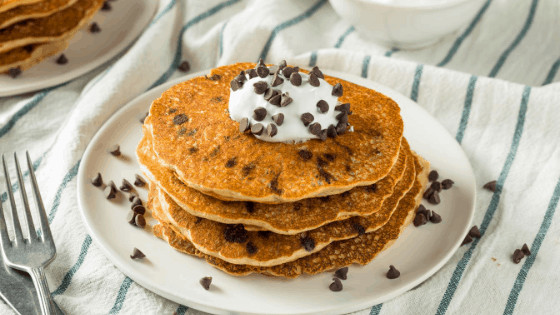 13 Sep

Banana Chocolate Chip Pancakes

Ready for some banana chocolate chip pancakes? One of my favorite gluten-free, grain-free flours is COCONUT FLOUR! Now coconut flour is interesting because it can definitely make something dry if you don't add enough liquid. So, I tread carefully when I use it. Luckily with years of practice of baking gluten-free goodies, I'm getting a handle for creating 'baked goods' recipes! If you know me, you know that's a huge deal! Yay!

Plus, I love using coconut flour because it's one of the most affordable gluten-free flours on the market! Seriously! At Trader Joe's you can get a bag for coconut flour for only $2.99! I'm a sucker for deals.

These pancakes are delicious with no added refined sugars, but using natural sugars from the banana and the chocolate chips. Delicious. Real. Ingredients. I'm also a sucker for banana + chocolate chips. These pancakes are so good that if you have someone struggling to "eat healthy" because they don't like the "healthy versions" of their favorite foods – well this recipe is awesome! It's hard to tell the difference between this recipe & a regular pancake recipe (or boxed pancake mix) that doesn't have the best ingredients! YES! Share with and tag us your banana chocolate chip pancakes  @nuvitruwellness on Instagram or Facebook so we can see!

Ingredients:
6 Pasture-Raised Eggs
1 Tsp Vanilla Extract
1 Banana
1/2 Cup Coconut Flour
1 Tsp Baking Powder
Enjoy Life Chocolate Chips
Coconut Oil (For Pan)
Maple Syrup (For Topping)
Grass-fed Butter (For Topping)
*Makes about nine pancakes*
Directions:
Mash up the banana in a bowl.
Once banana is mashed up, add in the remaining ingredients, except chocolate chips, and mix until everything is well combined.
Heat up some coconut oil in a skillet.
Add a little bit of batter in the skillet for each pancake. Then, top each pancake with some chocolate chips.
Flip the pancake when bubbles are surfacing and the bottom is firm.
Top with grass-fed butter & maple syrup! Enjoy!
If you are looking for another recipe, you can also try the Double Chocolate Chip Pumpkin Trouble.