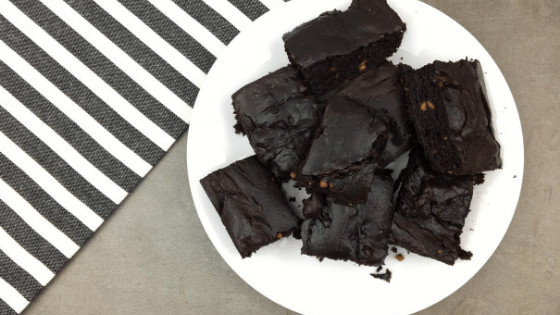 31 Jan

Avocado Flourless Cake

This avocado flourless cake is legit. This originally was supposed to be brownies. BUT, it didn't work out that way. I was thinking it could be cake-like brownies, but it ended up being really just cake.

Either way, it's so good and I'm so excited that this recipe didn't use any flour! It's also nice to mix things up and even though it doesn't use flour, it's just as moist and delicious as ever.

The additional chocolate chips are optional, but who doesn't like to bite into a cake with chocolate chips inside?! I know I do! My favorite brands are Enjoy Life and HU. Make sure there are no extra added oils, preservatives, or fillers in your chocolate! It is so important to read your labels… simple ingredients are always best!

I also love that this cake is loaded with healthy fats from avocado and almonds. My kiddos were so happy that I packed this in their lunch box + so was I because I can't get them to eat avocado for the life of me. I think it is a texture issue for sure.

Tag us @nuvitruwellness on Instagram + Facebook when you make this avocado flourless cake. We love to engage and hear back any time you make one of our recipes!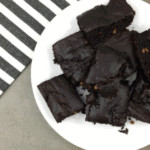 Print Recipe
Avocado Flourless Cake
Ingredients
1

Avocado

Mashed

3/4

Cup

Almond Butter

*

3

Eggs

Pasture-Raised Preferred

1

Tsp

Vanilla Extract

1/3

Cup

Baking Cocoa

Organic

1/2

Cup

Coconut Sugar

1

Tsp

Baking Soda

1/3

Cup

Maple Syrup

Chocolate Chips

Optional
Instructions
Preheat oven to 375 degrees F.

In a bowl, mash the avocado and almond butter really well until smooth. I like to use a potato masher by hand to make sure I really break it down.

Add the rest of the ingredients into the bowl and mix well with a hand mixer. I start off on medium speed for 30 seconds. Then, I use high speed until it's mixed well and totally smooth. If you're adding in chocolate chips, you can fold them in after the batter has been mixed.

Spray coconut oil in an 8x8 baking pan. Pour the batter into the pan.

Bake for 28-35 minutes. The toothpick test* should be done to confirm doneness.
Notes
*I find that this recipe is best when you've mixed up the almond butter really well with its natural oils. When it's more on the oily side versus the chunky, the texture is better 🙂
*The toothpick test is when you poke a toothpick in various places of your baked good. If the toothpick comes out clean, the baked good is done.