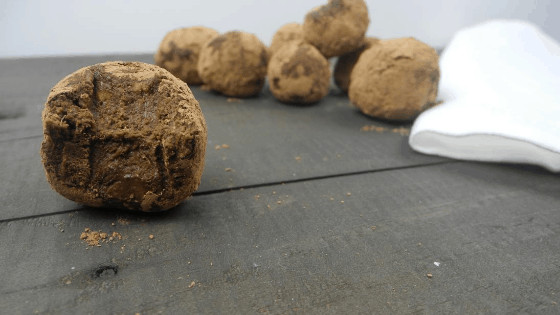 21 Jun

Avocado Chocolate Truffles

Ever just want something healthy, but sweet and full of good fats? If you said no, I'm not sure we can be friends. 😉 Three words – Avocado Chocolate Truffles!

Let me just fill you in on the simple ingredients that are used in these truffles before you go run to make 'em….

Avocados are full of healthy fats, like oleic acid which can help protect against inflammation and nutrients, such as vitamin K, Vitamin C, potassium, and folate.

Dark chocolate is another fatty food, full of saturated and monounsaturated fats and FULL of antioxidants. Polyphenols, being one of the major antioxidants in dark chocolate, showed in an article that…..
There are increasing evidences that as antioxidants, polyphenols may protect cell constituents against oxidative damage and, therefore, limit the risk of various degenerative diseases associated with oxidative stress
In this recipe, raw cacao was also used, which comes from the same place dark chocolate comes from, but processed in a different way. A study showed that cacao had MORE antioxidants than many popular fruits, like blueberries + pomegranates.
If you want to create a healthy fat + antioxidant punch snack, these avocado chocolate truffles are perfect-o! If you like these, try our edible cookie dough bites. Yup, I said that. Tag us on Instagram + Facebook @nuvitruwellness so we can see your yummy creation!
Ingredients
1 Ripe Avocado
1/3 Cup Dark Chocolate Chips
Raw Cacao
Pink Salt
Directions
Melt chocolate chips in a bowl.
In a food processor, take the inside of an avocado (discard seed) and blend it until it's smooth.
Add the melted chocolate chips in the food processor and blend until well combined.
Place the mixture into a bowl and put in the fridge for 20 minutes to firm up.
Take the firm mixture and roll into balls.
Put some raw cacao on a piece of parchment paper and roll the avocado truffles into the raw cacao until coated.
Store in fridge (if you don't eat them all ;))!