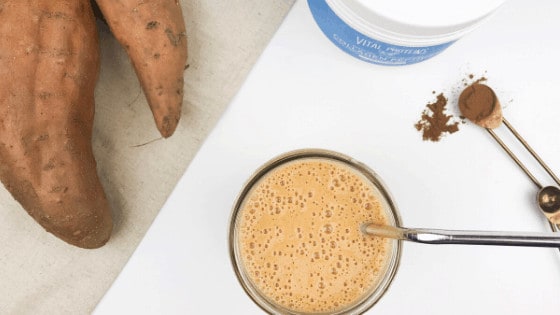 05 Jun

Sweet Potato Pie Smoothie
Disclaimer: Affiliate links are used in this blog where I make a small commission, with no additional cost to you. When you use these links, it helps support NUVITRU Wellness.
It's June + I'm making a sweet potato pie smoothie. Why? Because I'm impatient and don't like to wait until fall time to indulge in pumpkin pie and sweet potato pie! 😉 This sweet potato pie smoothie is PERFECT for a post workout shake, it's loaded with essential amino acids from only my favorite collagen from Vital Proteins!
If you don't have any already mashed sweet potato lying around in your house (I did for the recipe), you can quickly pressure cook some sweet potatoes in 15 minutes! Find out exactly how you do that over here!
Sweet potatoes are an all-time staple in our house. We can't get enough of them! They are the perfect starchy vegetable that can give you healthy carbohydrates, but are full of nutrients. Sweet potatoes are….
LOADED with vitamin A. One cup of sweet potato gets you 769% of your daily value of Vitamin A.
Vitamin C
Vitamin E
B vitamins
Magnesium
Phosphorus
Potassium
Manganese
As you can see, sweet potatoes are super nutrient dense and an easy side dish that you can serve to your family.
Smoothies make life + nutrition easy. Throw it in a blender + blend away, girlfriend! Tag us on Instagram + Facebook @nuvitruwellness so we can see your yummy smoothies!

Sweet Potato Pie Smoothie
Ingredients
1

Cup

Almond Milk

4

Tbsp

Sweet Potato

Mashed

1/2

Tsp

Cinnamon

1/2

Banana

2

Scoops

Collagen

Vital Proteins

1

Dash

Vanilla Extract
Instructions
Put all ingredients into a blender and blend until smooth!

Enjoy! 🙂