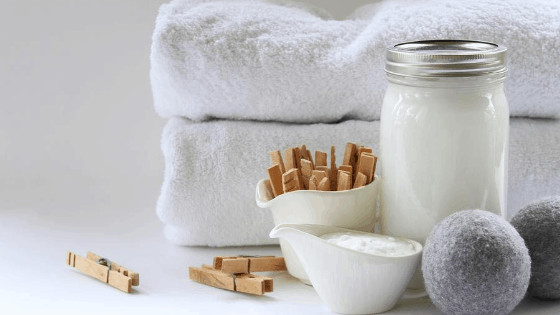 22 Sep

Save Money AND Have Healthy Laundry

Writing the title made me giggle. Laundry can be healthy? YES! There are tons of household products that can be toxic for us. Did you know that our skin is super absorbent and what we put on it can be absorbed into our body? This can mean beauty products that we put on ourselves or even products that leave residue and can rub against our skin.

Now, I'm not here to give you a scare tactic and be fearful of all the bad chemicals that we are subjected to throughout our day. BUT, I always say…what we CAN control are the things that we should focus on and fix to make our household a happy and healthy.

Now, onto what we are talking about today is dryer sheets & fabric softeners! I'm sure you've put one of these into your shopping cart before. Your goal is to have smellin' good laundry and soft clothes. Am I right? As a mom, this makes laundry more enjoyable! So, what's the problem you ask? These dryer sheets & fabric softeners often have chemicals that can be irritating to the skin and can cause rashes, some can cause respiratory issues if you are really sensitive to it, and even can be neurotoxic. Let's take a quick look at some of the questionable ingredients in these products..
Limonene – Can cause allergies and cause harm to our immune system.
Fragrance – A very broad term that is used in household and beauty products. This just means a mixture of chemicals (which they don't have to list all out) for the smelly good stuff we like. Some of the ingredients in fragrance are phthalates and parabens. This term is linked to allergies and respiratory issues by being toxic to our lungs.
Benzisothiazolinone – Which is used as a preservative in fabric softeners. This ingredient is banned by the European Union. This is studied to be an environmental toxin and can be irritating to eyes, skin, and lungs.
Alpha Terpineol – Which is used as a pesticide. It is harmful to our ecosystem, as it kills fish. There is insufficient data on if it can contaminate ground water, but a possibility.
Now think of all these ingredients in various things we use throughout the day, every day. It really does all add up and some of the ingredients are necessarily harmful to us specifically, but they can be to our environment and we have to live here and our future great grandkids have to live here too! Right? Some of these harsh chemicals can also break down our clothing much faster.
Why don't we just keep it simple and use a non-toxic choice?
I love Molly Sud's Wool Dryer Balls! Seriously, I tried them out and fell in love by my first batch of laundry! There are quite a couple things I love about them….
They reduce drying time by breaking up the clothes in the dryer.
They reduce the static cling.
They soften up your clothes naturally.
They make your clothes smell AWESOME when you use a couple drops of your choice essential oil on each ball. I used lemongrass essential oil in my last load and the clothes came out smellin' SO fresh & clean.
They save you money in the long run because one pack has three balls in it, which you use all three balls in every load. BUT, all three last about 1,000 load, which is about 3 years worth of laundry. Give or take. For a pack of three, it's $20 on Amazon (the link up there), but in Thrive Market, it's only $15 (Another reason I love Thrive Market!) Considering every month, you'll have to buy more fabric softener and/or dryer sheets, it can add up!
Have you tried wool dryer balls? Did you know you can actually make them yourself if you don't want to buy them? We'd love to hear your feedback on this non-toxic way to soften your laundry and make it smellin' good!
P.S. This blog contains affiliate links – so when you use these specific links, it supports Nuvitru Wellness AND these companies! Thank you!