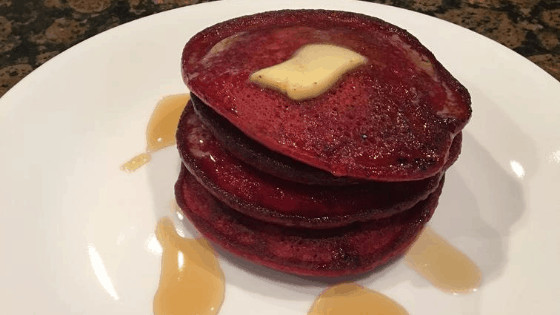 23 Jan

Red Velvet Pancakes (Gluten-Free!)

Red velvet pancakes (gluten free) are the bomb! Are you looking for the perfect breakfast to create for your Valentine? These red velvet pancakes are nutritious & delicious! Yes! There is such a thing of antioxidant rich pancakes. You might even want to double batch these pancakes & freeze them for future breakfasts. Sending you love with these pancakes! Share with us @nuvitruwelless on Instagram + Facebook so we can see!

Ingredients
1/2 Cup Chopped Organic Beets
1 Cup Coconut Milk
1 Tsp Vanilla Extract
1 Tbs Butter
1 Cup Oats
2 Tsp Baking Powder
1 Tsp MitoXCell Superfood Blend (Or Raw Cacao)
1 Banana
2 Eggs
Coconut oil (For pan)
Chocolate Chips
Grass-Fed Butter (Topping)
Maple Syrup (Topping)
Directions
Put the beets, eggs, coconut milk, vanilla extract, melted butter into a blender. Pulse it and blend it until it's creamy.
Add in gluten-free rolled oats (you can use a food processor and make the oats into a powder or if you have a high power blender, like a Vitamix you can just add in the oats without turning into a powder first!), baking powder, MitoXCell (or raw cacao) and the banana and blend until it's mixed together well.
Heat up some coconut oil in a skillet on low/med heat.
Pour a little bit in the skillet to create a pancake. Add some chocolate chips to each pancake.
Wait until bubbles are coming from the top and the bottom is firm before you flip.
Top with some grass-fed butter and maple syrup to enjoy!
*Makes about 11 small/medium pancakes.
* I like to use a lid to cover the skillet because it helps the pancake to cook through.
*If you double the recipe, do not double the coconut milk. If it's too watery too, I'll add a couple tablespoons of coconut flour at a time until it's firmer.