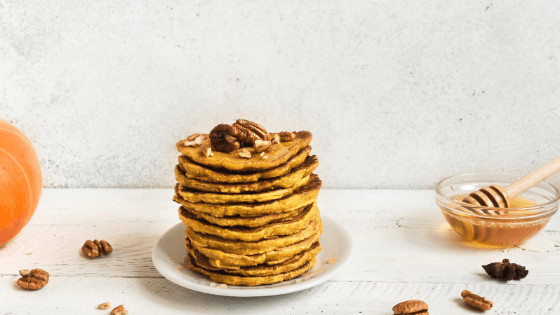 03 Oct

Pumpkin Pancakes

Because you know you want some pumpkin pancakes this fall! Sunday morning comes along & I'm just itching to make some delicious pancakes for the family. Topped with some grass-fed butter and maple syrup. You just can't deny that!

I've found that the last couple of recipe testing that I've done with pumpkin has been a struggle – the struggle is REAL! Pumpkin is such a unique texture and the ratios have to be just right to make sure the taste and the texture is on point! I was pretty proud of these pancakes Sunday morning, BUT I have to say this. The key is to make sure you flip when the bottom has been frying for a couple of minutes. Seriously. Or they'll burn. I browned my first three pretty bad, but they still tasted delicious!

By the end of the batch, I figured out you just have to be ready to flip! These babies will easily get very brown if you aren't careful. Ready? Go! Share with and tag us @nuvitruwellness on Instagram or Facebook!
Ingredients
1/2 Cup Coconut Flour
1/3 Cup Organic Canned Pumpkin
1 1/2 Tsp Pumpkin Pie Spice
1 Tsp Vanilla Extract
4 Pasture-Raised Eggs
1 Tsp Baking Soda
1/3 Cup Coconut Sugar
1/2 Cup Coconut Milk
Coconut Oil (For Pan)
Directions
Mix all ingredients together in bowl. Mix until everything is well combined.
Heat up some coconut oil in a skillet. Heat it up between low and medium.
When the skillet is hot, pour a little bit of pancake mix into the skillet. (I usually can fit three pancakes in a large size skillet.)
Make sure to flip when the bottoms of the pancakes are set. This is *key* to make sure they don't burn (even though I tried them burnt & they still taste delicious!). When the pan gets dry, add some more coconut oil in the pan.
Top with grass-fed butter and 100% maple syrup! Enjoy!
Makes Eight Pancakes