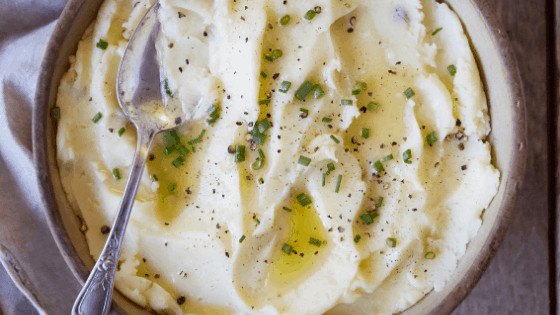 25 Nov

12-Minute Pressure Cooker Mashed Potatoes

You know, I'm obsessed with mashed potatoes. The creamy delicious goodness with a slow cooked organic whole chicken…yeah, that's me with my mouth watering. Always a classic in this house. I had a birthday that just passed and an awesome gift that was given to me this year was a…drum roll please….

PRESSURE COOKER

! What do you think was first on my mind? Pressure cooker mashed potatoes, of course! My current obsession. Seriously. The

pressure cooker stole my heart when it cooked frozen chicken breasts in 20 minutes

. So, when I combined two of my obsessions…mashed potatoes & a pressure cooker…I couldn't wait to try it out. The results were…
I didn't have to dice the potatoes into quarters or smaller. I could just simply half the potatoes. Less chopping = yay!
They were done in 12 minutes.
They were cooked perfectly, not too mushy and not too hard. Just right.
When you make these pressure cooker mashed potatoes, tag us on
Instagram
+
Facebook
@nuvitruwellness, so we can see your creation! How do you make them?
Ingredients
6-8 Yukon Gold Potatoes
3/4 Cup Cashew Milk
4 Tbsp Grass-fed Butter
Pink Salt
Directions
Cut the potatoes in half & put inside pressure cooker.
Pour two cups of water in the pressure cooker too!
Put on the potato setting or if you don't have that setting, set for 12 minutes high.
While it's cooking, heat up and melt the butter and coconut milk together.
When it's done, release the steam. Open up the pressure cooker and take out the inside container to drain the potatoes.
Once drained, put potatoes in a big bowl. Take a hand mixer and mix up the potatoes on low for a minute.
Pour in the coconut milk and butter and salt (to taste) and mix well.
Enjoy