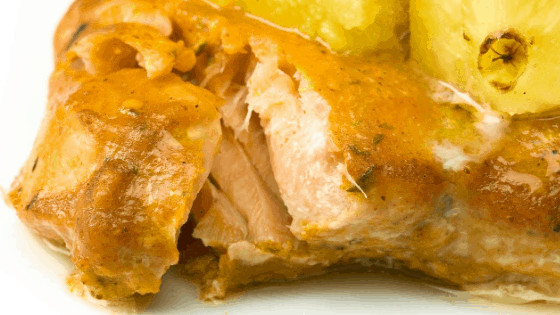 01 Jun

Pineapple Glazed Salmon

Pineapple glazed salmon reminds me of of one of my favorite meals in Hawaii. There is something about a sweet delicious sauce on top of a piece of meat that makes my mouth water. In this case, we are using salmon, because honestly, salmon can get freakin' boring if you're making the same way over and over again.

That was me…. making salmon teriyaki… over… and over again. So, let's get fancy-ish.

Actually, it's not that fancy, it's pretty easy to make, BUT it's delicious tasting! We paired this salmon with classics – organic rice + asparagus.

 

Ingredients
3 Salmon Filets (Wild-Caught)
Garlic Powder
Paprika
Dried Cilantro
Avocado Oil
Pineapple Juice (Use the pineapple juice from 14 oz can that has pineapple chunks in it!)
1/2 Cup Coconut Aminos
Directions
Heat up a skillet with 1-2 Tbs of avocado oil.
Season the salmon with garlic powder, paprika, and dried cilantro. Just season it enough to cover each filet.
Put the salmon filet in the skillet and cook 4-5 minutes on each side.
Once the salmon is done, take it out of the skillet and set aside.
Put the pineapple juice and coconut aminos into the skillet and let it simmer.
You want to simmer it for about 10-15 minutes or however long it takes to get the sauce to be thick. This is where the sauce reduces, but thickens.
When it's thick, pour over salmon filets.
Top the filet with pineapple chunks. Enjoy!
Tag us @nuvitruwellness on social media when you make this pineapple glazed salmon! Enjoy!