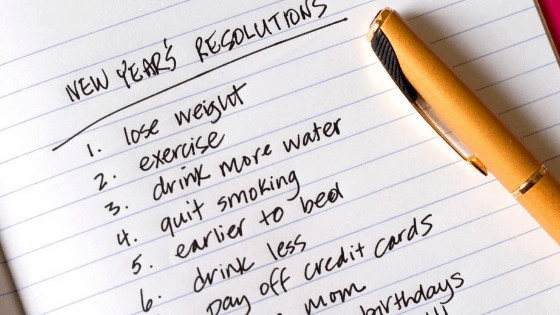 29 Dec

Steps To Make Your New Years Health Goal Happen

It's that time again! The new year. New goals. New you. Fresh year. The most popular resolutions that people make for the new year is health related. People want to lose weight, they want to be healthier, they want to exercise more, etc. But just saying, "I want to lose weight this year" isn't enough. You need to be specific. You need to cast a vision for what you really want and HOW you are going to do it. You can't make New Years goals without having a to-do list or a checklist on what you need to do to make that goal happen.

So, make that 'big broad' goal, but then let's break it down into smaller goals that you do each day/week to make your big goal happen! You are on your way to a 'healthier' you before you know it!
Eat some kind of greens

everyday

. Our society's problem is that we don't get enough vegetables.

We over eat, yet we are undernourished.

 Some of the best and nutrient-dense vegetables that we could be getting into our diet are leafy greens. This can mean spinach, kale, collard greens, swiss chard, arugula, etc. You get the gist. How can you incorporate them into your every day life? Sautee them in meals you already make, like eggs. Add them for a side at every meal. Put them in your smoothie by the handfuls, which is a good option if you aren't a fan of the taste. Just make it happen and make an effort to get greens everyday.
Take a probiotic (or eat fermented foods) every day. This is me talking about gut health again. Because it's SO important. Our gut health can be the root to many underlying issues, like eczema, IBS, asthma, headaches, chronic fatigue, the list goes on. What can we do about our gut health? Making sure we are providing and supporting the good gut bacteria.
Get some type of movement in every day. I'm sticking pretty broad here because everyone has different likes and dislikes of exercise. But the point is to get moving! Take at least 15 minutes a day getting your heart rate up and your muscles moving and grooving. You can choose from yoga, strength training, high intensity interval training, pilates, even a dance class.
Get out in the sun everyday. No, walking from a building to your car doesn't count. Get as much skin exposure to the sun for at least 15 minutes per day. When our skin is exposed to sun (without sunscreen), it's able to create vitamin D. Having adequate vitamin D can improve your sleep, boost your immune system, reduce your risk of cancer, and decrease depression. Vitamin D isn't the only benefit to getting some sun. You can also balance your circadian rhythm, which is your body's 24 clock that responds to light and dark/wake and sleep cycle.
Reduce consumption of refined unhealthy foods. This is a no-brainer, but the hardest one to make a habit. Refined foods are known to make give us empty calories with no natural nutritional value and can be pretty inflammatory to our body. Sticking to vegetables, quality proteins, fruits, nuts, seeds, grass-fed raw dairy (if you can tolerate it) and the occasional whole non-wheat grain can really do wonders. Breads, pastas, most baked goods, sugary items, crackers, anything in a box or bag- proceed with caution. EVEN if it says organic. Just because it says organic doesn't mean it it's good. 
If you are feeling overwhelmed of all the "healthy rules" and you don't even know where to start, I have to recommend my Holistic Living eCourse that is finally released! After six months in the making, it's ready for YOU. I'm taking the most important aspects of healthy holistic living and putting it into a format where you can come and learn at your own pace and start to put what you learn into action. I minimize all the noise in the world, so you can focus on exactly what you need to to create that healthy lifestyle. 
Are you ready? Let's make this year SHINE for you! Book your FREE 15 min phone call with us so we can get you started on the path to better health today!