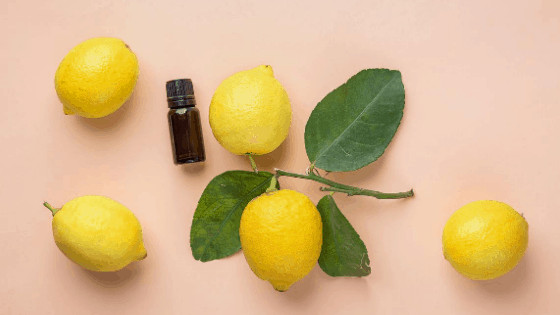 27 Jun

Benefits of Lemon Essential Oil

One of my FAVORITE essential oils to use around the house is lemon! Lemons are naturally known to be some of the best natural cleaners for you AND your house. I wanted to share some of the benefits of lemon essential oil that is evidence-based!

Lemon essential oil is taken from the lemon peel itself and is known to be antibacterial, antifungal, antioxidant rich, antiviral, antidepressant, and an astringent. The words clean and lemon always seem to be in the same sentence because lemon has powerful properties.
Benefits Of Lemon Essential Oil
In the Journal of Food Safety, a study showed that lemon essential oil was able to inhibit bacteria that was related to food spoilage and used in the food industry. One of the most natural ways to clean your counters after you prep food is to mix vinegar, lemon essential oil, and a small amount of Dr. Bronner's Castile Soap. Another study showed that lemon essential oil was just as effective as chemical preservatives in inhibiting a strain of a microorganism that affects canned foods. Lemon essential oil was also shown effective against two types of bread mold.
A study showed that lemon essential oil had a strong anti-stress and antidepressant effect in mice compared to rose and lavender. Another study showed that rats that were exposed to lemon essential oil had internal chemical changes that reduced the threshold amount of anxiety and pain they had compared to the rats that weren't exposed to lemon essential oil.
A review of the main chemical constituent in lemon essential oil : d-Limonene showed to be able to dissolve gallstones, supports digestive movement, relief of heartburn and GERD, and chemopreventive against various types of cancer.
How To Use
Lemon essential oil should be not used topically on kids under two. It's safe to diffuse at any age and I don't recommend internal use of essential oils unless under the supervision of a certified aromatherapist. If you use cold-pressed citrus essential oils, it's recommended to avoid direct sunlight for up to 12 hours as it can cause skin irritation. If you use steam-distilled lemon essential oil, you don't have to avoid the sun.
Proper dilution is very important. A 2% dilution is pretty ideal for adults, which is 2 drops of essential oil per 1 teaspoon. To use lemon essential oil on children over the age of two, a 1% dilution can be used, which is 1 drop of essential oil per 1 teaspoon.
Personally, I love to use lemon essential oil in homemade cleaners, mopping, and laundry. I prefer to diffuse lemon essential oil over topical use. Remember, diffusing you can get just as many benefits as topical use. I love using lemon for disinfecting surfaces, disinfecting the air, stress relief, fight fatigue, anxiety, and fighting colds/flus.
Favorite Essential Oils
My favorite places to get lemon essential oils are Plant Therapy, Mountain Rose Herbs, and Pompeii Organics. For essential oils, I recommend companies with the best price, but not sacrificing the quality of the oil and these companies do a fantastic job at meeting both of those needs!
Do you use lemon essential oil? What are your favorite benefits of lemon essential oil that make you rush to go grab it?
In Health,
Lahana Vigliano