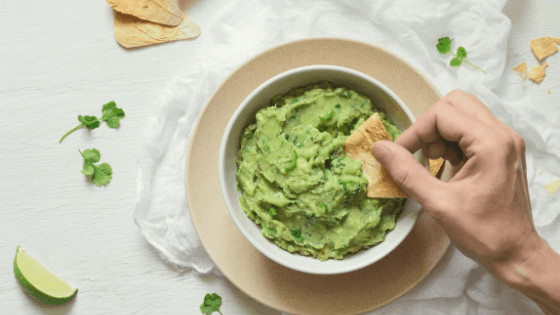 01 Jun

Homemade Guacamole

You know those people that will eat an avocado with a spoon? Yeah, I'm not one of those people. I have to have my avocado dressed up with other veggies and pureed into a delicious guacamole.

Then, I will top it on my tacos, eggs, lunches….okay well I'll use it on everything to be honest. It's easy to whip up within minutes and can make a bland meal turn delicious!

When you make our guacamole, head over to social media and tag us @nuvitruwellness on Instagram or Facebook so we can see your beautiful guac! Yaasss!

If you make our healthy loaded nachos, this is a PERFECT additional topping!

If you're ready to take back your health with a nutritionist helping you 1:1, head over to our Services page to learn more about what we do and request your free appointment!

Ingredients
2 Avocados
1/2 of Medium Lemon
Pink Himalayan Salt
2 Tsp of Organic Salsa
1 Stem of Green Onion
Directions
Cut open the avocado & separate the pit & skin from the green flesh. Throw the flesh into a food processor.
Squeeze in the lemon and salsa.
Chop one stem of a green onion and put it in the food processor.
Salt to taste. (I never measure when I use salt.)
Puree until it's creamy.
Enjoy! Top it on your favorite dishes!
In Health,
Lahana Vigliano