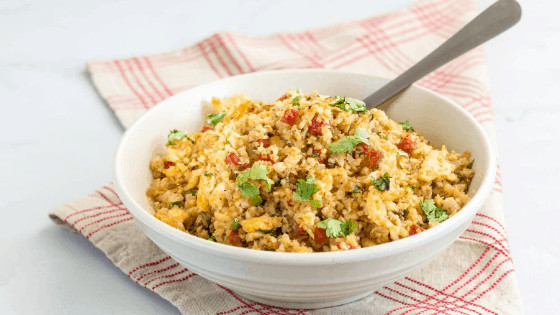 10 May

Cauliflower "FRIED" Rice

Can cauliflower fried rice be as good as the real deal? My dad is from the Philippines, so I grew up in a house that rice was a staple. One of favorite dishes that my dad would make would be fried rice. My son became obsessed with it too. We will still have basmati or jasmine rice every now & then, but you can never have too many veggies in your diet. My family and I aren't huge fans of cauliflower that is chopped into florets and roasted or baked. I'm not sure what it is, but I just do not like it. (Yes, nutritionists can still be picky with with vegetables ;))

Cauliflower is in the cruciferous category, which you can read about why these vegetables are important to eat here. I was determined to figure out a way to like cauliflower! I found my favorite way to eat cauliflower is in 'rice' form. What is even more awesome is that Trader Joe's has organic riced cauliflower frozen. So it takes 10-15 minutes out of prep time. So here is my favorite recipe to create my favorite fried rice with my learned love of cauliflower. When you make this, share with and tag us @nuvitruwellness on Facebook or Instagram!

Cauliflower Fried Rice

Makes Four Servings

Ingredients
1 Bag of Trader Joe's Riced Cauliflower (Or 1 head of cauliflower, processed in food processor to a 'rice' form)
1 Tbs of Coconut Oil
1 Tbs of Ghee
4 Organic Carrots ('Riced' in a food processor)
1/2 Cup of Peas
3 Pasture-Raised Eggs
1 Small Onion
Scallions (To Top)
Garlic Powder, Pink Salt, Black Pepper, Onion Powder, Dash of Paprika
Directions
1) Heat up some coconut oil in a pan. Add in the scrambled eggs. Cook until done. Then set aside.
2) In that same pan, add the ghee & onions. Cook until onions are translucent.
3) Add in riced cauliflower, carrots, and peas. Heat all the way through.
4) When it's heated all the way through, add in your cooked scrambled eggs. Season with the spices that I mentioned above. (I don't measure much when I'm cooking, especially with spices. So spice generously or to your liking.)
5) Add in coconut aminos. (I used about 1/4 cup of coconut aminos. You can use less or more.) Mix well.
6) Top with scallions & enjoy!